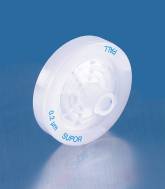 Need Help?

More Information

Description
Fluorodyne EX grade EDF filters are high-capacity, low protein binding sterilizing grade filters. Incorporating a built-in prefiltration layer and validated to retain
Brevundimonas diminuta
(ATCC 19146) at a concentration of 10
7
CFU/ cm², Fluorodyne EX EDF filters are ideal for the sterile filtration of cell harvest material and challenging intermediate and final bulk biological process fluids.
Mini Kleenpak syringe filter capsules are designed for use in the laboratory. Featuring the lowest surface area in Pall's UpScale and a very small hold-up volume, they are ideal for filtering the smallest quantities of fluids (up to 100 mL) with minimal losses.
Key Features and Benefits
Ideal for screening trials
Built-in, MachV asymmetric prefilter layer for long-life and low filtration costs
Low protein and preservative binding
Low extractables
Supplied pre-sterilized using gamma irradiation
Quality Standards
Meet USP Biological reactivity tests in-vivo in accordance with USP Class VI 121 °C for Biological safety
Endotoxin Level < 0.25 EU/mL using Limulus Amoebocyte Lysate (LAL) test
Cleanliness per USP Particulates in injectables
Non fiber releasing per CFR 211.72 and CFR 210.3(b)(6)
Further Reading

Poster: Scale Up of Direct Flow Membrane Filters

Article: Bacterial Penetration of 0.2 μm Sterilizing-Grade Filters with a Cholesterol Liposome Carrier: A Comparison of Data

Specifications
Materials Of Construction
Filter Membrane
Prefilter Layer: Hydrophilic asymmetric PES
Final Filter Layer: Hydrophilic PVDF
Housing, Vent Plug and Support Material
Polypropylene
Sealing Technology
Insert molding
Operating Parameters¹
Maximum Operating Temperature and Pressure
5.4 bar (80 psi) at 20 °C
2.1 bar (30 psi) at 60 °C
¹ In compatible fluids which do not soften, swell or adversely affect the filter or its materials of construction

Sterilization²
Pre-sterilized, subject to a minimum of 25 kGy of gamma irradiation
² Pre-sterilized Mini Kleenpak syringe filters must not be re-sterilized. Mini Kleenpak syringe filters must not be sterilized in-situ by passing steam under pressure


Typical Hold up Volume

Nominal Dimensions
Capsule Length
21 mm (0.8 in.)
Capsule Diameter
29 mm (1.2 in.)
Nominal Effective Filter Area (EFA)

Connection
Female luer lock inlet, male slip luer outlet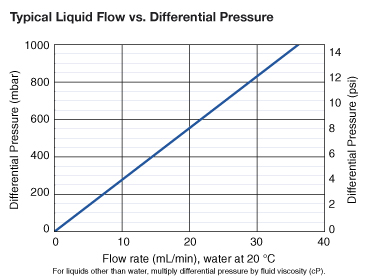 Ordering Information
Item
Part Number
Mini Kleenpak™ Syringe Filters with Fluorodyne® EX EDF Membrane
KM2EDFS*
* supplied as 1 box of 50 filters