Pall Ultipor® N66 sterilizing-grade filter cartridges feature high-strength pure Nylon 6,6 membranes for higher sterility assurance. In wide use for almost 20 years, these filters have a proven record of performance in the production of sterile biologicals and pharmaceuticals. High-area pleated into single open-ended (SOE) AB sanitary style cartridges, Ultipor N66 sterilizing-grade filter cartridges are available with ratings from 0.45 µm for LVPs, reagents and viscous fluids, 0.2 µm for sterile products and intermediates, 0.1 µm for sterilization and mycoplasma removal from biologicals, to 0.04 µm for sterilization and virus reduction from biologicals.
Features and Benefits
Intrinsically water wettable
Fixed pores, non-shedding
Resin and surfactant-free
Broad solvent compatibility
Low filter extractables
High-area for long-life
 High protein recovery from most protein solutions
Repeatedly steamable in situ
Note: These filters are also available in Kleenpak Nova capsule format.
Quality and Bio-Safety*


Integrity
Every filter integrity tested during manufacture. Test correlated to microbial retention
Biological Tests
Meets USP Biological Reactivity Test, in vivo, for Class VI-121 °C Plastics
Meets Cleanliness per USP Particulates in Injectables
Non-Fiber-Releasing per 21 CFR
Non-Pyrogenic per USP Bacterial Endotoxins (< 0.25 EU/mL)
Meets Total Organic Carbon and Water Conductivity per USP Purified Water, pH per USP Sterile Purified Water
Steam Resistance
Lot samples multi-cycle autoclave challenged
* Per lot samples soak or rinse-up flush aliquots.
Materials of Construction
 
 Membranes
 Nylon 6,6, double-layer
 Support. Drainage and End Caps
 Polyester
 Core and Cage
 Polypropylene
 O-rings
 Silicone1
 
1 Other materials available on request
Microbial Removal Ratings2
 
NR, NF
 0.2 µm sterilizing-grade
NT
 0.1 µm mycoplasma sterilizing-grade
 
2 Lot samples retain > 107 cfu/cm2 of an appropriate challenge organism per mod. ASTM F838-83 and FDA guidelines; NR, NF, NT: Brevundimonas diminuta; NT also retains > 107 cfu/cm2 Acholeplasma laidlawii mycoplasma
Nominal Dimensions
 
Lengths 
 254 mm (10 in.), 508 mm (20 in.), 762 mm (30 in.), 1016 mm (40 in.)
 Diameter
 70 mm (2.75 in.)
 
Operating Conditions3
 
Maximum Differential Pressure during Steam-Sterilization
300 mbar (4.35 psi) in a forward direction
Maximum Differential Pressure and Temperature 
5.5 bard (80 psid) to 50 °C
4.1 bard (60 psid) to 80 °C
 
3 In compatible fluids
Typical Liquid Flow Rates4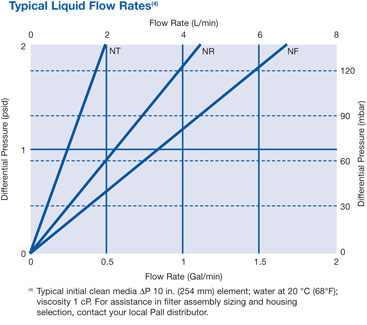 Configuration (AB Code 7)5
Double 226 O-ring adapter
Fin end with bayonet lock
5 Alternate adapter codes available
Autoclavable or Steamable In-situ6
 
 Cumulative Steam Exposure
16 hours (1-hour cycles) at 121 °C
4 hours (1-hour cycles) at 140 °C
 
6 Laboratory tests to establish multi-cycle resistance. Filters should be qualified in actual use. Contact Pall for recommended procedures.
Aqueous Extractables (NVR) per 254mm (10 in.) Element
Sterilizing-Grade Liquid Filtration
Specifically engineered for fine filtration, prefiltration and bioburden reduction of a wide range of pharmaceutical and biological liquids, providing reliable, economical and efficient particulate and bioburden removal