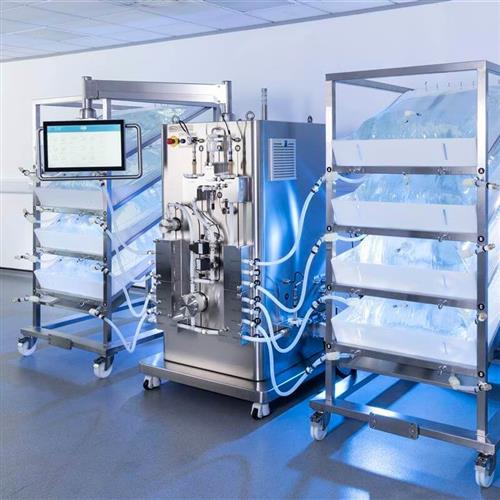 The Allegro Connect buffer management system provides buffer on demand. It is a flexible system designed for pilot scale, clinical batches and commercial production to ensure that the right buffer is delivered at the right time, providing an efficient, streamlined workflow. The modular system design enables up to six high volume process buffers to be supplied as required, one at a time, directly to the batch unit operation such as chromatography or tangential flow filtration (TFF) based on buffer inline-dilution (ILD) and utilizing a single-use flow path. Multi-column chromatography (MCC) application buffer requirements can also be met by the Allegro Connect buffer management system, delivering a maximum of four process buffers at the same time to the MCC chromatography system.

The standard system comprises of a control unit and two buffer workstations. Buffer concentrates are diluted in-line with water for injection (WFI) at point of use with typical dilution factors of 5x - 20x. These significantly smaller buffer volumes offer a reduced labor cost and alleviate the need for large mixing/hold vessels that take up a large overall footprint. The Allegro Connect buffer management system provides a reduction in capital expenditure.
The Allegro Connect buffer management system alleviates traditional bottlenecks in buffer preparation and provides a solution to the challenges faced as processes become increasingly intensified and the range of biotherapeutics becomes more diverse.