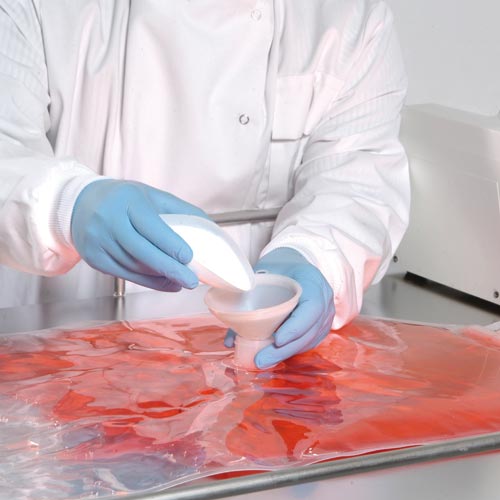 Need Help?

More Information

Description
Integrated into Allegro 2D Single-Use
Systems for Mixing Applications
Single-use systems have been widely implemented throughout biopharmaceutical processes in many fluid management applications. The main drivers for this are to improve operational flexibility, eliminate cleaning and cleaning validation, improve safety, and ultimately reduce costs by removing non-value added steps from the process and shortening drug development time. Single-use technologies and systems are now available for more advanced applications, such as tangential flow filtration for concentration and diafiltration and in-process mixing.
 
Features
Benefits
Biocontainer uses the standard Allegro 2D and 3D biocontainer film
Consistent materials across full range of Allegro biocontainers
Powder addition port included on biocontainer
Allows for powder to be added into the biocontainer for recirculation mixing
Inert low density polyethylene (LDPE) fluid contact layer
High clarity and flexibility
Compatible with a wide range of chemicals
Very low level of extractables and leachables
No animal derived ingredients
Appropriate materials for biopharmaceutical applications
Excellent gas barrier properties
Stability of product during storage
 
Mixing is an essential operation for any biopharmaceutical process such as mAbs, therapeutic proteins or vaccines. Mixing is applied at multiple stages and for many applications within a process. Typical applications include preparation of buffer and media solutions, control of important fluid parameters such as pH and conductivity around chromatography operations, and final formulation prior to filling. Mixing systems can vary for a wide range of applications and volume sizes. Pall Life Sciences provides a 2-dimensional (2D) pillow-type Allegro biocontainer equipped with a screw cap powder port for single-use mixing system for small volume batches (10 – 50 L). The Allegro 2D biocontainer with powder port can be integrated into Pall Allegro single-use systems to provide mixing using a recirculation method, or for use on an appropriate rocking mechanism. A typical system configuration for recirculation mixing, showing various options for connections is shown below.
Typical System (with Options for Connections) for a Recirculation Set-Up

1 Recirculation Loop(with fluid inlet line)

Lengths (and connections) defined by application

2 Outlet

Showing typical connectors used

Kleenpak™ sterile connector
Quick connect

Showing options for tubing/hose barb connection

3 Allegro Biocontainer (with powder port)

Available in 20 L or 50 L

4 Optional Sampling Line

Showing options for sampling

Swabable luer (needleless)
Septum
This typical set-up can be adapted as required to provide a customized solution depending on the specific mixing application requirements.
♦BarbLock is a trademark of BarbLock Corporation