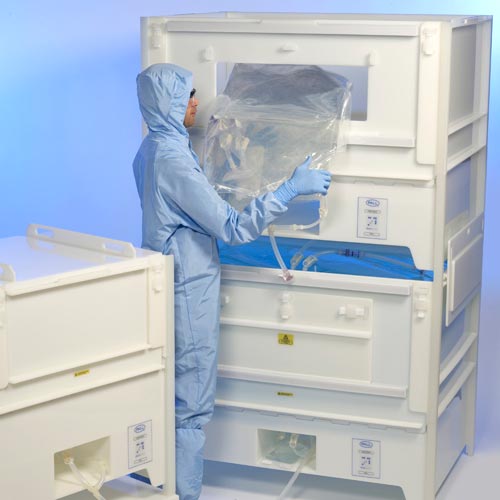 Need Help?

More Information

Description
For 50 L, 100 L, 200 L and 500 L Allegro Single-Use Systems
Allegro plastic totes have been specifically designed and engineered to provide robust support for single-use systems in biopharmaceutical fluid management applications.
Pall's collapsible plastic Allegro totes enable easy implementation of 50 L, 100 L, 200 L and 500 L single-use systems around each unit operation, while reducing manufacturing footprint. The Allegro plastic tote has been specifically engineered in order to provide maximum flexibility in the processing environment with stackable, maneuverable and collapsible features. 
The tote is made of polypropylene (PP) plastic material, thus providing broad chemical and high thermal resistance as required for clean room utilization. The plastic material also reduces the weight for easy maneuverability. The Allegro plastic tote design is suitable for fork-lift truck transfer, enabling easy movement even when fully loaded.
 
Features
Benefits
Collapsible design
Reduced storage space requirements when not in use
Polypropylene construction
Lightweight and cleanable with a wide variety of agents due to excellent chemical resistance
Stackable
Can handle 100 L, 200 L or 500 L systems
Available in three different sizes
No operator intervention during filling for maximum reliability
Ease of use with Allegro 3D biocontainers
Flexibility in the choice of containers when requested
Usable with other biocontainers