High performance, easy-to-use mixers for manual
to fully automated solution preparation between 2 and 50 L
Mixing is a critical operation within many biopharmaceutical processes for applications ranging from buffer and media preparation, in-process unit operations such as low pH viral inactivation, to final formulation. The Allegro 50 L single-use mixer is part of Pall's expanding range of Allegro products and services providing integrated process solutions throughout the drug production process. The Allegro mixers combine critical requirements for single-use technologies, such as extreme ease-of-use, with established engineering design principles and criteria for robust mixer design to deliver the ultimate in mixing performance. The 50 L mixer is a scale down version of the larger mixers in the Allegro range (200 L, 500 L and 1000 L) with the additional feature of an advanced impeller design to facilitate low volume mixing down to 2 L.

Sensor signals can be displayed locally on the mixer, or alternatively, can be connected to an automated Allegro MVP system. With the added capability of a Weighing Platform option, the Allegro mixer from Pall can be fully integrated to the Allegro MVP automated single-use system, providing complete automated process monitoring and control solutions for all applications that require mixing (e.g pH adjustment for buffers and virus inactivation).The standard model of the Allegro 50 L mixer incorporates a plastic tote. As with the other mixers in the range, the mixer is also available in a jacketed stainless steel tote format, and can incorporate sensors (e.g. pH, conductivity and temperature) for on-line monitoring and control.
The Allegro 50 L mixer is designed to provide exceptional mixing performance for a wide range of applications from upstream through downstream process to formulation and filling. Due to its efficient mixing and high turn-down ratio, this mixer is especially suited to small volume formulation applications where fast, reproducible results are required. Potential applications include:
Upstream media preparation for cell culture
Downstream pH adjustment, virus inactivation and buffer preparation
Final formulation mixing
The entire range of Allegro mixers can be combined with the Allegro MVP system to fully automate mixing and filtration processes, including fluid transfer to and from the mixers. These high performance mixers lend themselves especially well to difficult mixing applications (mixing dense powders or high viscosities), applications requiring repeatable, fast mixing performance, or where biologicals sensitive to shear are being mixed.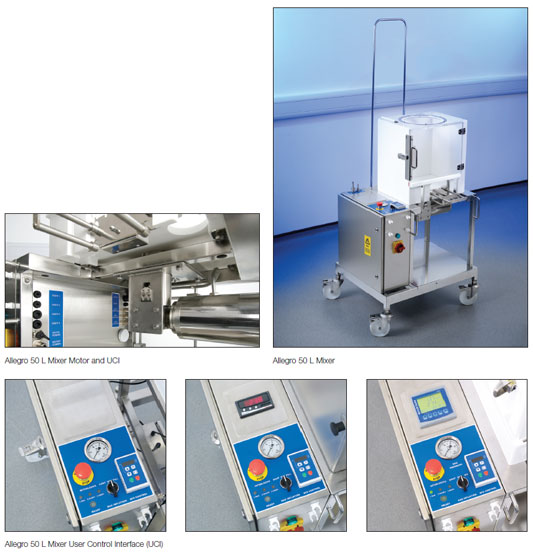 Features and Benefits
 
Features
Benefits
 
Four pitch blade low volume impeller
Efficient low shear general purpose mixing over a wide range of applications. Capable of mixing down to 2 L.
Impeller rotation in clockwise or counter-clockwise direction
Flexibility to perform both up-flow and down-flow for floating (low density) and settling (high density) fluid or solids
Inflation of the mixer bag
Provides mixing envelope for consistent performance from 2 - 50 L and the ability to have a gas blanket in operation
Jacketed tote
Temperature control in appropriate applications
Plastic tote with see-through door
Excellent visibility of mixing process
Sensor integration
In-process monitoring and control with local display and/or integration with automated Allegro MVP systems
Weighing trolley option
Accurate control of fluid and powder additions during operation (can also link to the Allegro MVP system for automation)
Contoured floor (Plastic tote version)
Extremely high fluid recovery – 50 mL hold-up volume following draining (tested with water)
 
Validation
As part of our rigorous approach to product validation, Pall has conducted a wide range of tests in addition to the general performance tests to prove the robustness of the Allegro 50 L mixer. A summary of key validation tests is provided below:
Biological safety (USP<87> and <88>)
Physico-chemical tests (USP<661>)
Particulate matter in Injections (USP <788>)
USP<85> LAL endotoxin (compared to limit for WFI)
Extractables testing (water and ethanol)
Gamma resistance
Leak tests
Drainage/product recovery
Tubing connection robustness
Shelf life studies
Full details of product validation in the form of a comprehensive validation guide can be requested from Pall.
Quality Standards
The Allegro single-use mixer biocontainers are 100% leak tested at manufacture.
All Allegro biocontainers, including the mixer, are manufactured in a controlled environment (Class 10,000) certified to ISO 13485 and ISO9001.
The materials of construction of the Allegro mixer biocontainer meet:
USP<88> Biological reactivity test In Vivo for Class VI - 50 °C Plastics
USP<87> Biological Reactivity Tests In Vitro, Cytotoxicity
ISO 10993 Biological Evaluation of Medical Devices
USP<661> Physico-chemical testing for plastics
European Pharmacopeia (section 3.1.5)
Japanese Pharmacopeia (section 61 Part 1)
The Allegro mixer totes are manufactured under a Quality Management System Certified to ISO 9001 and ISO 14001 and are in conformity with the requirements of the European Directive 2004/108/EC (Electromagnetic Compatibility) and European Directive 2006/95/EC (Low Voltage Safety).
 
 
Allegro 50 L Standard Mixer
Allegro 50 L Jacketed Mixer
Allegro 50 L Standard Mixer and Weigh Platform
Allegro 50 L Jacketed Mixer and Weigh Platform
230 Vac PN
LGRMXTT
E50L230A
LGRMXJTT
E50L230A
LGRMXWTT
E50L230A
LGRMXJWTT
E50L230A
120 Vac PN
LGRMXTT
E50L120A
LGRMXJTT
E50L120A
LGRMXWTT
E50L120A
LGRMXJWTT
E50L120A
Min/Max Volume (L)
2 – 50
Current (A)
5.1 (230 Vac) 9.2 (120 Vac)
Frequency (Hz)
50-60
Motor Power (kW)
0.37
Impeller Speed (%)
0 - 100
Gas Supply (barg/psi)
2 – 6 / 30 - 90
Weight (empty) (kg)
94
133
103
142
Weight (full) (kg)
144
186.5
153
195.5
Footprint (L x W) (mm/in.)
883 x 654 / 35 x 26
883 x 654 / 35 x 26
964 x 654 / 40 x 26
964 x 654 / 40 x 26
Height (mm/in.)
1286 / 51
1286 / 51
1364 / 54
1364 / 54
IP Rating
65/Nema 4
65/Nema 4
65/Nema 4
65/Nema 4
Weighing Platform Accuracy (g)
N/A
20
Materials of Construction
Tote
Plastic (acrylic)
304 Stainless Steel
Plastic (acrylic)
304 Stainless Steel
Frame
304 Stainless Steel
Wheels
Nylon/Stainless Steel
 
*Height does not include installed system height or the optional powder bag/tubing support frame
Allegro 50 L Mixer showing installed system and support frame: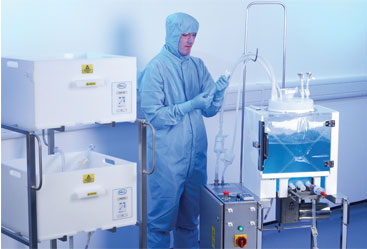 The Allegro mixers have been tested on a wide range of applications representing a broad range of biopharmaceutical operations where mixing is required. The Applications Summary Table lists the applications tested and the mixing performance achieved.
 
Mixing Type
Application
Solution
Time to Mix
Liquid – Liquid
Final Formulation & Filling
1 % (v/v) Acetone
‹1 minute
200 g/L > 10 g/L NaCl
4.5 minutes
Conductivity Adjustment
200 g/L > 10 g/L NaCl
‹ 1 minute
Solid – Liquid
Conductivity Adjustment
1 M NaCl
5.5 minutes
Media Preparation
5.36 g/L DMEM
4 minutes
47.6 g/L Terrific Broth
3 minutes
Vaccine Formulation
1.4 g/L Aluminum Hydroxide
‹ 10 minutes
Final Formulation & Filling
0.04 g/L Allura Red Dye in 250 cP Corn Syrup
3.5 minutes
Buffer Preparation
9.6 g/L PBS
‹ 2 minutes
1 M Ammonium Sulfate
4.5 minutes
21 g/L Citrate Buffer
2 minutes
Dye Test
0.05 g/L Allura Red Dye
2.5 minutes
 
Regulatory/Quality Documentation
Standard Hardware Options
 
 
Allegro 50 L
Standard
Mixer
Allegro 50 L
Jacketed
Mixer
Allegro 50 L
Standard
Mixer and
Weigh Platform
Allegro 50 L
Jacketed
Mixer and
Weigh Platform
230 Vac
LGRMXTT
E50L230A
LGRMXJTT
E50L230A
LGRMXWTT
E50L230A
LGRMXJWTT
E50L230A
120 Vac
LGRMXTT
E50L120A
LGRMXJTT
E50L120A
LGRMXWTT
E50L120A
LGRMXJWTT
E50L120A
230 Vac with
pH/Cond Transmitter
LGRMXTT
E50L01
LGRMXTT
E50L05
LGRMXTT
E50L09
LGRMXTT
E50L13
120 Vac with
pH/Cond Transmitter
LGRMXTTE50L02
LGRMXTTE50L06
LGRMXTTE50L10
LGRMXTTE50L14
230 Vac with
Temperature Transmitter
LGRMXTTE50L03
LGRMXTTE50L07
LGRMXTTE50L11
LGRMXTTE50L15
120 Vac with
Temperature Transmitter
LGRMXTTE50L04
LGRMXTTE50L08
LGRMXTTE50L12
LGRMXTTE50L16
125 mm Conductivity
Sensor
LGRMX125COND
125 mm pH Sensor
LGRMX125PH
225 mm pH Sensor
LGRMX225PH
PT100 Temperature
Sensor
LGRMXTEMP
Powder Bag/Tubing
Support Frame
LGRMX50LSF
Funnel Support
LGRMX50LFS
Tubing 

Support

LGRMX50LTBS
FAT
LGRMXTTE50L-FAT
LGRMXJTTE50L-FAT
LGRMXWTTE50L-FAT
LGRMXJWTTE50L-FAT
 
Standard Single-use Systems
The following systems exist as standard designs for different mixing applications. Further standard designs are available. Contact Pall for full details.
Single-use mixer systems can also be designed according to specific application requirements. For a customized design, please contact your Pall representative with specific application details.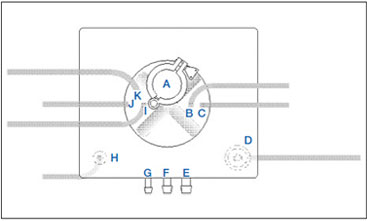 A
Powder addition port
3 in.
B
Fluid addition port
¼ in.
C
Fluid addition port
¼ in.
D
Main fluid outlet
½ in.
E
Sensor port
¾ in.
F
Sensor port
¾ in.
G
Sensor port
½ in.
H
Sample port
¼ in.
I
Gas inflation port
¼ in.
J
Main fluid inlet
½ in.
K
Gas exhaust port
½ in.
 
 
Pall Part Number
Description
Schematic
609-100Q
Quick connect fittings Flush outlet port Needleless luer sample port
609-100R
Quick connect fittings Flush outlet port Needleless luer sample port One threaded sensor port (for 125 mm sensors)
609-100S
Quick connect fittings Flush outlet port Needleless luer sample port Two threaded sensor ports (for 125 mm sensors)
 
 
Pall Part Number
Description
Schematic
609-100T
Quick connect fittings Flush outlet port Needleless luer sample port One thermowell port (for PT100 sensor)
609-100U
Kleenpak™ sterile connectors Flush outlet port Needleless luer sample port Sterilizing grade vent filters
609-100V
Kleenpak sterile connectors Flush outlet port Needleless luer sample port Sterilizing grade vent filters One Kleenpak sensor port (for 225 mm pH sensor). Use with Bellows assembly (639-80N)
639-100W
Quick connect fittings Flush outlet port Needleless luer sample port NON IRRADIATED
639-80N
Bellows assembly for use with Kleenpak sensor port and 225 mm pH sensor NON-IRRADIATED
 
High performance, easy-to-use mixers for manual to fully automated solution preparation between 2 and 50 liters