A Gentle, Efficient Separation Technology for Complex Biotech Harvest and Clarification Applications
Vibrating Membrane Filtration (VMF) technology prevents the accumulation or build-up of retained species at the membrane surface and subsequent membrane fouling.
Requires much lower cross flow and transmembrane pressure (TMP) than traditional TFF technologies, resulting in lower energy consumption and allowing better protein transmission.
Offers gentle product treatment, even with high suspended solids levels.
Simplifies scale up. Filter modules are available in 0.2, 1 and 5 m² surface areas for more flexibility and easy scale up or scale down. 
Encapsulated module is easy to use and replace.
Expands processing options. Users may combine different process steps within the same system (for example, harvest and clarification steps). 
Compact design reduces the system footprint.
Tangential flow filtration (TFF) is well established in biotechnological applications for the concentration and diafiltration of proteins and cell harvest. However, the energy input to achieve the required cross flow rates is high and the generated shear effect can damage sensitive target molecules. Innovative dynamic filtration systems using microporous membranes may be used as an alternative.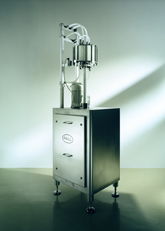 The new PallSep Biotech System is suitable for the gentle separation of target molecules from complex process fluids containing high levels of biomass/particulates and high viscosity. The shear forces generated by Vibrating Membrane Filtration (VMF) are limited to a narrow layer on the membrane surface, thus the bulk of the process fluid is not exposed to the shear. In addition, the required cross flow is much lower when compared to other TFF technologies. The system allows for a dynamic membrane filtration with lower energy input and gentle processing of the target molecule with a low pressure drop. The PallSep Biotech System consists of encapsulated 0.2 μm polyethersulfone (PES) filter modules with filter areas of 0.2 m², 1 m² and 5 m², which allow for process development and full-scale production. The system is suitable for installation in GMP facilities for use in biopharmaceutical processes without compromising ease of use, flexibility, cleanability, safety or operating costs.   The PallSep Biotech System uses an offset motor that induces oscillation of two masses (the membrane module and a seismic plate) connected by a torsion rod. Operation close to the resonance frequency of ~50 Hz leads to a very low energy input to maintain the oscillation of the two masses. The oscillation prevents particulates from accumulating at the membrane surface and thus fouling the membrane surface. A stable permeate flow is maintained while achieving high levels of product transmission, even with high particulate density and viscosity.
Designed to meet customer-specific requirements, the PallSep Biotech System includes all the valves, pumps, sensors, vessel and piping elements mounted on a skid assembly to operate the unit, either in manual or automated conditions.
Materials of Construction
PallSep Biotech Module
Membrane
0.2 µm Polyethersulfone
Membrane Support Plate
Polyolefin Copolymer
Membrane Drainage Layer
Polyolefin
Spacers
Polyester
Encapsulant
Epoxy Resin
O-rings/Gaskets
EPDM
Housing
Fiber Reinforced Plastic
Core
Polysulfone
PallSep Biotech PS50 Base Unit
Tubings and Fittings
316 L Stainless Steel
Surface Finish

<

0.5 µm Internal


<

0.8 µm External
Hoses with Integral Fittings
Platinum Cured Silicone
Gaskets
EPDM
Operating Parameters
Maximum Operating Pressure at Ambient Temperature
4.2 barg (60 psig)
Maximum Operating Pressure
4.2 barg (60 psig)
Maximum Transmembrane Pressure (TMP)
3.5 barg (50 psig)
Maximum Operating Temperature
50 ºC
Minimum Operating Temperature
4 ºC
Concentration, clarification and purification of high particle load, high viscosity or difficult-to-filter solutions such as:
Fermentation broths 
Lysates
These solutions are used in the production of high value products, for example, therapeutic vaccines or antigen extracts.
Quality Standards
Modules are manufactured under a system of Quality Management certified to ISO 9001:2008 Quality System Standard and 100% integrity tested during manufacture.
Each module is delivered with a certificate of quality.
Regulatory/Quality Documentation
Part Number
Module Description
Pkg
VMFPSM20B02
0.2 m² PallSep Biotech module
1/pkg
VMFPSM20B10
1 m² PallSep Biotech module
1/pkg
VMFPSM20B50
5 m² PallSep Biotech module
1/pkg
PallSep Biotech System
 Please contact your Pall representative for more information
PallSep™ Biotech Systems is the ideal component for biotechnological industry level concentration, clarification and purification of high particle load, high viscosity and difficult to filter solutions. The process for high value solutions should be simple and gentle. PallSep Biotech offers a simple to use and easy scale up solution for efficient separation technology during complex applications.