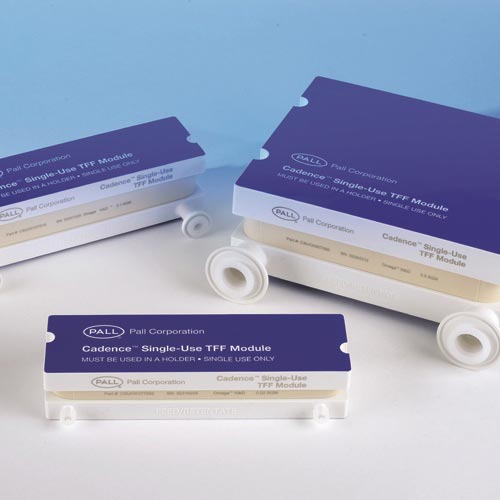 Need Help?

More Information

Description
A simpler, easier and safer single-use TFF solution for R&D, clinical or commercial manufacturing
Pall's single-use tangential flow filtration (TFF) modules are ready-to-use gamma-irradiated cassette modules designed for single-use in Pall Allegro™ single-use TFF systems and can also be integrated into other single-use TFF set-ups. They provide ease-of-use, quick turnaround and increased flexibility, safety and containment in cGMP operations.
Our single-use TFF modules can be easily implemented in single-use TFF systems for concentration and diafiltration steps from R&D to commercial production of biotech products or vaccines.
Integrating the process-proven Pall Omega™ polyethersulfone (PES) membrane, our are available in scalable formats from 93 cm² up to 2.5 m² of membrane area.
Key Attributes
Simpler and easier solutions: preassembled, ready-to-use modules for easy integration into single-use TFF systems.
Safer solutions: single-use, gamma irradiated, contained modules for product and operator safety.
 
Feature
Benefit

Pall's single-use TFF modules are delivered as preassembled modules that have been gamma irradiated at ≥ 25 kGy

Ease of installation and integration in single-use TFF systems

Supplied preconditioned, stored in water and gamma irradiated, the modules do not require comprehensive conditioning steps prior to use (see schematic 1). Typically less than 20 L/m² flush volumes are required to reach TOC levels below 1 ppm.

Improved productivity, reducing downtime and allowing focus on product processing operations only
No chemical handling
Reduction of buffer or WFI consumption

Designed for fully single-use operation, our single-use TFF modules can provide post-use containment during the single-use fluid flow path disassembly.

Increased process, product and operator safety
No cross contamination
Post-use containment of hazardous product

Our single-use TFF modules integrate the process-proven Omega PES membrane and are scalable.

Scalable formats, streamlining product development and process optimization

Tests have shown that the process performances of the our single-use TFF modules are comparable to reusable Omega T-series cassettes, thus offering the flexibility to switch from single-use to reuse TFF options and vice-versa with limited validation work.

Improved process robustness
Improved process robustness

 
Schematic 1: Comparison of TFF operations, reusable cassettes versus single-use with Pall's modules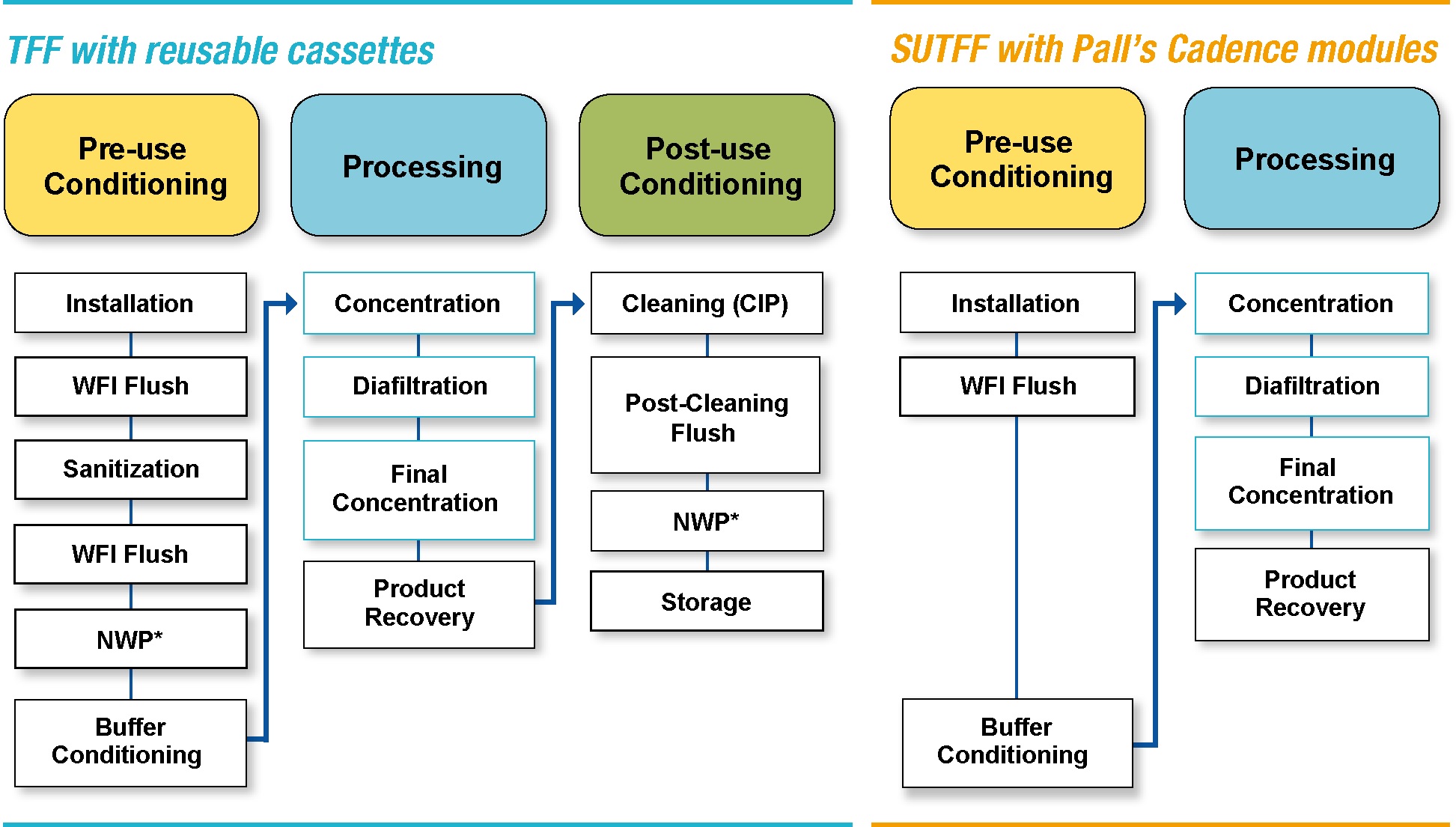 Product Platform
Pall's single-use TFF modules are available in five formats with the following membrane areas:
They integrate process-proven Pall Omega polyethersulfone (PES) membranes to offer high flux and selectivities. The Omega membranes have been specifically modified to minimize protein binding.
Our single-use TFF modules are available with Omega membrane in three different nominal molecular weight cutoffs (NMWC) - 10 kDa, 30 kDa and 100 kDa - meeting the majority of the needs for single-use TFF applications in the biotech and vaccines industries.
They can be installed and torqued into Pall's specially designed holders and operated with the Allegro single-use TFF systems or with other single-use set-ups.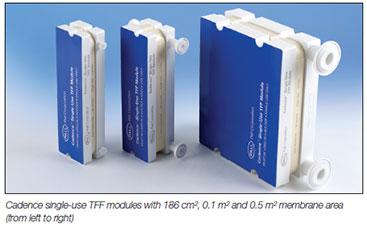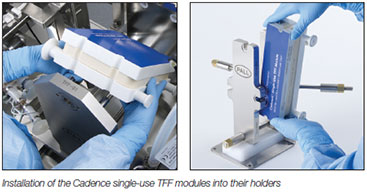 Quality Standards
Manufactured in a controlled environment
Manufactured under a quality management system certified to ISO 9001 standards
Supplied with a Certificate of Quality confirming the quality standards and quality control tests performed by Pall
The fluid path meets all regulatory requirements for:

Biological Reactivity Tests (in vivo) for Class VI-70°C Plastics, USP <88>
Biological Reactivity Tests (in vitro) for Cytotoxicity, USP <87>