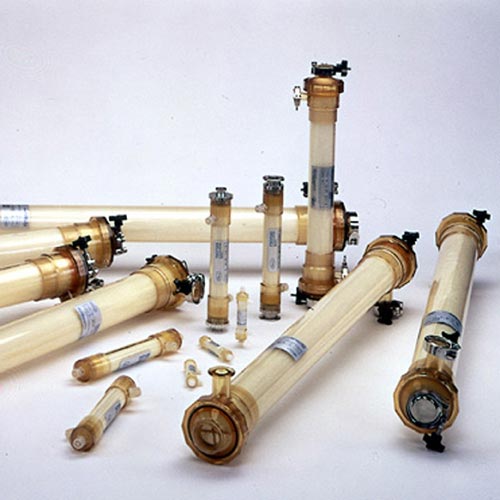 Need Help?

More Information

Description
Polymeric Membrane Morphology
Microza* ultrafiltration membranes are unique in their construction. Every membrane has an asymmetric structure,with a membrane layer both on the inside, and on the outside of the fiber, overlaying a core comprising a very open support for excellent flow characteristics, and a central strengthening layer for outstanding fiber durability in long-term service. Microza ultrafiltration membranes are resistant to flow in both directions, so there is no risk of delamination or membrane rupture during accidental back-pressure. In fact, in many installations, backpulsing can be used to maintain flux during extended run times.
Microza micofiltration membranes have smooth inner and outer membrane skins with a highly porous symmetrical support structure giving high-flow rates. These modules can also be backflushed.
All Microza membranes have surfaces that minimize entrapment and facilitate cleaning. All Microza membranes are manufactured in a single step, and are not composed of laminates. Membranes and modules are subjected to rigorous quality control to ensure consistency of performance, durability in service, and module integrity for the most demanding applications.
Polyacrylonitrile (PAN)
PAN membranes are ideally suited to bulk process applications, such as the purification of enzymes. They exhibit high-strength, coupled with high flux rates, minimizing installation size. PAN has a low fouling characteristic for these applications, simplifying cleaning.
The AP and AV series of Microza hollow fiber ultrafiltration modules feature unique double-skinned proprietary polyacrylonitrile (PAN) membranes with dense internal layer. Available in 6,000, 13,000, 50,000 and 80,000 molecular weight cut-offs, the modules are used in a range of pharmaceutical applications especially in purification and processing of aqueous enzymes and protein solutions. 80,000 MWCO modules are especially useful for raw water pretreatment to pharmaceutical water purification plant.
Key Features 
Hydrophilic polyacrylonitrile membrane provides low fouling and excellent flux recovery
 Combination of high-strength and high-capacity due to unique membrane construction
High-strength fiber allows reverse filtration to assist cleaning in difficult applications
Available in a range of sizes from 0.012 m2 (0.13 ft2) to more than 40 m2 (425 ft2)
Compatible for continuous operation up to 50 °C (122 °F)
Easily cleanable in most biological applications using minimum chemicals or detergents
Meets the specifications for biological tests listed in the current revision of USP for class VI plastics at 121 °C (249 °F)
LGV and LOV modules especially optimized for raw water duty 
pH 2 -10
Microza Module Types
Microza hollow fiber modules are available with housings made from polysulfone (native, clear), filled polysulfone (white, opaque), and polyvinylchloride (PVC). Polysulfone modules will withstand autoclaving and in some cases steaming. Clear polysulfone modules are recommended for more critical pharmaceutical applications. Filled polysulfone and PVC modules are ideally suited to long term installations where light might cause biofilm to form, or for bulk processes involving light sensitive materials. PVC modules are idea for use in feed water systems and bulk processes.
Microza modules are available with industry standard clamp fittings on the feed and retentate side, and some with quick connects. All steamable modules designed for long term use in critical applications such as perfusion have sanitary clamp connections on the feed/retentate and filtrate sides, or filtrate hose barbs on laboratory scale modules.
Retrofitting Existing Applications
To retrofit an existing application,membrane rating should be chosen to be equivalent or superior in performance. For ultrafiltration membranes, this may require testing more than a single cut-off. Differences in membrane area and lumen diameter can typically be accommodated by adjustments to operating conditions to ensure that trans-membrane pressure and fluid velocity conditions at the membrane surface are similar. Hollow fiber modules can be joined end-to-end as required to create similar path length systems. Small adjustments to physical dimensions, and differences in connection type are accomplished using adapters. Please contact Pall for assistance with selecting the right modules to retrofit an existing installation.
* Microza is a trademark of Asahi Kasei Corporation
Specifications
Materials of Construction
 

Membrane

Polyacrylonitrile

Housing

Native clear polysulfone (P) or PVC (V)

Potting Material

Epoxy Resin

Gasket

Silicone (P) or butyl rubber (NBR) (V)

Bacteriostat

Glycerin 65%, Ethanol 2%, water balance

 
Connectors and Adapters
 

A - A1

Small hose barb 4.5 mm (3/16 in.)

A2

Small hose barb 6 mm (¼ in)

B - B1

Quick connect -To convert feed/retentate to:
1½ in. sanitary clamp, order part number 0450163 (fits in body of module)
¼ in. sanitary clamp, order part number 2055675 (fits in body of module)
¼ in. hosebarb (fits on quick-connect) order part number 2055999 (polypropylene)
¼ in. FNPT (fits on quick-connect) order part number 2089150 (316L stainless steel)

C - C3

1 in. sanitary flange (ferrule face 34 mm [1.34 in.]) 

C4

1½ in. sanitary flange (ferrule face 50 mm [1.98 in.]) 

C5

2 in. sanitary flange (ferrule face 64 mm [2.52 in.])  

C7

4 in. sanitary flange (ferrule face 117 mm [4.61 in.])  

C8

6 in. sanitary flange (ferrule face 157 mm [6.18 in.])  

D - D2

Cap nut, 38.5 mm diameter

D3

Cap nut, 48.5 mm diameter

 
Part Numbers and Technical Specification - Table 1 1
 

Part Number

Rating
(MWCO, Daltons)

Fiber ID/OD (mm)

Nominal Length (2)
(mm)
Membrane Area
(m2)
Clean Water Flux
Lh-1 bar, 25 oC
Crossflow Rate for 1ms-1 fluid velocity

AIP-0013

6000

0.8 / 1.4 mm 

130

0.017 

0.8

181

AIP-1010

6000

0.8 / 1.4 mm

347

0.19

10

724

AIP-2013

6000

0.8 / 1.4 mm 

552

1.0

50

1629

AIP-3013

6000

0.8 / 1.4 mm

1129

4.7

160

3655

AIV-3010

6000

0.8 / 1.4 mm

1126

4.7

170

3655

AIV-5010

6000

0.8 / 1.4 mm

1126

12.3

700

10134

ACP-0013

13000

0.8 / 1.4 mm

130

0.017

2.6

181

ACP-0053

13000

1.4 / 2.3 mm

130

0.012

1.6

222

ACP-1010

13000

0.8 / 1.4 mm

347

0.19

34

724

ACP-1050

13000

1.4 / 2.3 mm

347

0.12

19

776

ACP-2013

13000

0.8 / 1.4 mm

552

1.0

160

1629

ACP-2053

13000

1.4 / 2.3 mm

552

0.6

90

1773

ACP-3013

13000

0.8 / 1.4 mm

1129

4.7

750

3655

ACP-3053

13000

1.4 / 2.3 mm

1129

3.1

360

3990

ACV-3010

13000

0.8 / 1.4 mm

1126

4.7

830

3655

ACV-3050

13000

1.4 / 2.3 mm 

1126

3.1

420

3990

ACV-5010

13000

0.8 / 1.4 mm

1126

12.3

2200

10134

ACV-5050 

13000

1.4 / 2.3 mm

1126

7.8

1100

11084

LGV-3010 

13000

0.8 / 1.4 mm

1126

7.6

500

3257

LGV-5210 

13000

0.8 / 1.4 mm

2227

41

4000

8686

AHP-0013 

50000

0.8 / 1.4 mm

130

0.017

7.6

181

AHP-1010 

50000

0.8 / 1.4 mm

347

0.19

82

724

AHP-2013 

50000

0.8 / 1.4 mm

552

1.0

460

1629

AHP-3013 

50000

0.8 / 1.4 mm

1129

4.7

2250

3655

AHV-3010 

50000

0.8 / 1.4 mm

1126

4.7

2500

3655

LOV-3010 

80000

0.8 / 1.4 mm

1126

7.6

1500

3257

LOV-5210 

80000

0.8 / 1.4 mm

 2227

41

7000

8686

 
Part Numbers and Technical Specification - Table 2 1
 

Part Number

Maximum Pressure Feed/TMP/Permeate at 50 oC (barg)
Volume Feed Side (3) (mL)
Volume Permeate Side (3)  (mL)

Feed/Retentate Connection

Permeate Connection

AIP-0013 

1/1/1

9

9

A2

A1

AIP-1010

2/3/2

90

120

B1

B1

AIP-2013

5/3/3

300

500

C4

C3

AIP-3013

5/3/3

1200

2700

C5

C4

AIV-3010

3/3/3

1200

2700

C7

D2

AIV-5010

3/3/3

3800

5300

C8

D3

ACP-0013

1/1/1

9

9

A2

A1

ACP-0053

1/1/1

10

9

A2

A1

ACP-1010

2/3/3

90

120

B1

B1

ACP-1050

3/3/3

90

120

B1

B1

ACP-2013

5/3/3

300

500

C4

C3

ACP-2053

5/3/3

310

500

C4

C3

ACP-3013

5/3/3

1200

2700

C5

C4

ACP-3053

5/3/3

1200

2850

C5

C4

ACV-3010

3/3/3

1200

2700

C7

D2

ACV-3050

3/3/3

1200

2700

C7

D2

ACV-5010

3/3/3

3800

5300

C8

D3

ACV-5050

3/3/3

3800

5300

C8

D3

LGV-3010

3/3/3

-

-

C7/D2

C7

LGV-5210

3/3/3

-

-

C8/D3

C8

AHP-0013

1/1/1

9

9

A2

A1

AHP-1010

2/2/2

90

120

B1

B1

AHP-2013

4/2/2

300

500

C4

C3

AHP-3013

4/2/2

1200

2700

C5

C4

AHV-3010

3/2/2

1200

2700

C7

D2

LOV-3010

<span