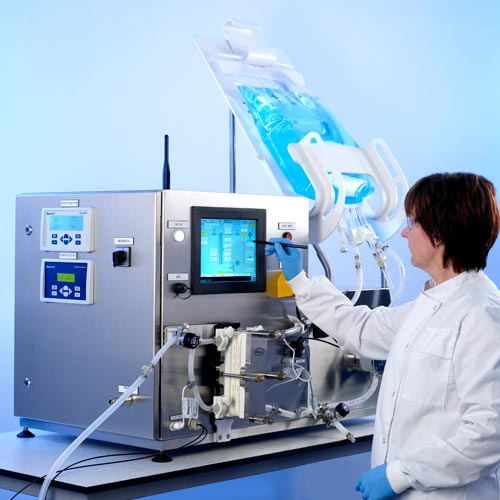 Need Help?

More Information

Description
Optimized small scale SUTFF processing
The Allegro CM150 single-use tangential flow filtration (SUTFF) system is easy to use and offers all the critical sensors for running ultrafiltration (UF) and diafiltration (DF) processes at 2-20 L batch volumes.
The system layout is optimized for a low minimum recirculation loop, to ensure final target volumes can be achieved and provide excellent product recovery.
The programmable logic controller (PLC) based control system ensures easy operation and monitoring of UF applications, constant volume diafiltration, and provides real-time trending and data logging capabilities.
Designed for ease of use
Single-use sensors – Pressure, flow, conductivity, temperature, ultraviolet (UV)
Low feed / retentate volume ~100 mL
Excellent product recovery
0.1 – 0.4 m2 cassette area
System Functionality
The Allegro CM150 system is part of a broader range of SUTFF systems offered by Pall for processing 2 L to 2000 L batches. The system has the flexibility to run Cadence™ SUTFF modules or T-series Centramate™ cassettes with Omega™ or Delta membrane.
Scalability of performance is critical in developing tangential flow filtration (TFF) processes. The Allegro CM150 system is designed for use in small scale good manufacturing practice (GMP) manufacture and for process development activities, to generate scalable data. Continuity of single-use component choice and design approach across our system range provides reliable scale up from Allegro CM150 system to the larger scale Allegro SUTFF systems.
The system offers the flexibility needed for single-use processing. The base system can run with just pressure and flow sensors or utilize the additional optional sensors for conductivity, temperature and UV, depending on the process requirements. The base system accommodates this flexibility, and base systems can be upgraded later if additional features are needed for new projects.


All connections and key controls are easily accessible from the front of the system.
Flexibility
Single-use sensors

Pressure: Feed and retentate
Flow: Retentate
Temperature: Retentate (optional)
Conductivity: Retentate (optional)
UV: Permeate (optional)

Centramate cassettes (T-series 0.1 to 0.4 m2)
Cadence SUTFF modules 0.1 m2
Transmembrane pressure (TMP) control
Tray for retentate biocontainer assemblies: 5 L and 10 L

Adjustable tray comes to lower position for easy installation of the biocontainer assembly, and is then moved to the upper position for processing

Accessory biocontainers and bespoke trolley
Allegro manifolds and biocontainer assembly: the well-considered design and layout ensures easy installation whilst minimizing recirculation volumes.
Cadence CM holder. This can accommodate either Cadence 0.1 m2 SUTFF modules or T-series Centramate cassettes, with an appropriate Allegro manifold from the standard sets available.
Control System
The Allegro CM150 system offers essentially manual control of TFF processes, but has the capability to run constant volume diafiltration. The diafiltration pump can be set to automatically control the pump speed to maintain a constant mass in the retentate biocontainer according to the defined input weight.
All process values are shown in the piping and installation diagram (P&ID) based operator interface. The main screen indicates all process signals as well as system/ component status.
The header bar clearly indicates the current user logged into the system, and provides the operator with navigation buttons to other areas of the control system.
A wireless link to a tablet, smartphone or PC enables remote viewing of the system screen and wireless transfer of data files.
The control software is designed for flexible and user friendly control of tangential flow filtration processes, providing the following key features:

P&ID based user interface with dynamic flow path
Retentate biocontainer weight controller (standard)
Full security access to configuration settings screens
Real-time trending
Data logging with data transfer in comma separated value (CSV) or line-delimited format
3 level user login, user administration and password control