Need Help?

More Information

Description
For control, flexibility and ease of use in manufacturing
The Allegro CS1000 and CS4500 single-use tangential flow (SUTFF) systems offer all the control and instrumentation for running fully automated UF/DF processes from 500 to 2000 L batches. The approach to design offers systems that are compact, ensure low feed/retentate volumes, and have the flexibility to run cassette surface areas from 0.5 to 10 m
2
.
Intuitive control system employing step editor software
Easy set up and installation of manifolds
Good selection of single-use sensors
System Concept
Allegro SUTFF systems offer a combination of hardware, control systems and SU assemblies designed to work perfectly together. Clever system design ensures ease of use in running fully automated TFF process sequences, with complex single-use assemblies, incorporating all of the critical sensor and instrumentation technologies.
Flexibility is a key requirement for single-use system design. These systems offer the end user a choice of single-use sensors for feed, retentate and permeate manifolds. A range of 2D and 3D bio-containers are available for retentate, product recovery and buffer / WFI. Weigh scales and mixer technologies can also be offered with these systems, to suit individual process requirements.
A review of specific process needs with our engineering team will ensure a solution is offered to meet exactly all of the process requirements. This might be achieved with one of our standard platform designs for SUTFF, along with standard totes and mixers. Or it might lead to the creation of a custom design. The custom designs will still retain the core components that we have validated for use in SUTFF processes. But we have the flexibility to integrate our systems with other plant equipment, plant control systems and offer systems designed for running other TFF formats such as hollow fibers.
The use of validated components for running SUTFF processes is extremely important for success in design and ultimate system performance of our systems. Continuity of these components is maintained throughout our offering in SUTFF processing. 
The Allegro SUTFF systems facilitate the automated processing of 500 L to 2000 L batch volumes of monoclonal antibodies, recombinant proteins, vaccines and antibody-conjugate processes. The single- use sensors provide the means to monitor and control the process fully.

The system design gives full consideration to ease of use in system set up and processing, while ensuring use of components and instruments that can achieve the performance requirements for TFF processes.
Adopting SUTFF technologies can have many potential benefits in a process. Cost of Goods studies have shown significant savings in capital, materials, labor and facility operating costs when comparing SUTFF to regular processing with stainless steel TFF systems. A more flexible approach in manufacturing can lead to increased productivity and better resource allocation.
Control System
The automation concept is based on the Pall Process Step Editor (PPSE), which allows the user to configure automated process sequences (phases) in a very simple and user friendly way. This is a very intuitive control system ideal for use in the Allegro SUTFF systems, with a phase editor that allows easy generation and configuration of end user specific processes. The software complies with 21 CFR Part 11.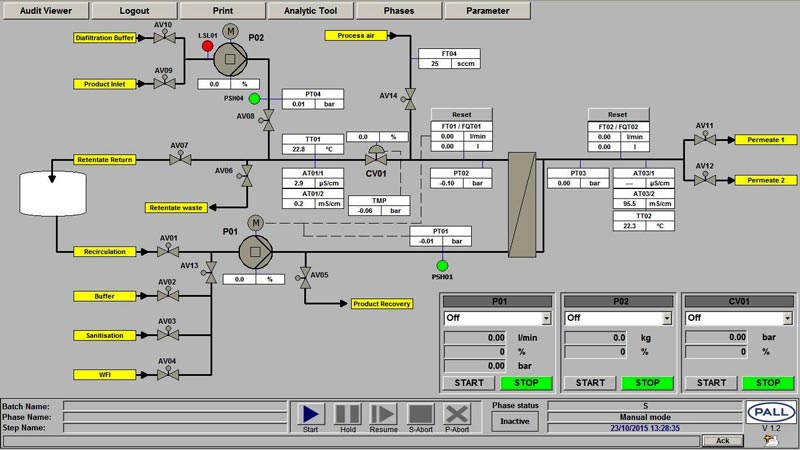 Main screen with indication of all process signals as well as system/ component status
The user can select the transition points which move the process from one step to the next. This can be done by selection of one or several process parameters (with an "AND" or "OR" logic) such as conductivity, retentate volume, permeate volume, biocontainer weight.
Further flexibility is added as the system allows the configuration and use of loop and jump functions thus making selective step repetitions feasible.
Upon operator's selection batch reports will be generated automatically at the end of a batch for each single step. The content of the batch report is predefined.
CS1000 cassette holder, with manual torque, 0.5 to 2.5 m2 T-series cassettes or Cadence™ single-use TFF modules
Key System Features
Interactive P&ID based user interface with dynamic flow path
Flow, TMP and bag weight controller
Phase based automation (one phase comprising up to 30 freely definable steps)
Easy to use phase editor
Full security access to configuration
Real-time trending
Graphic data analysis using the Pall Analytic Tool (PAT)
Data and event logging
Batch report generator (one page per step)
User administration
Audit Trail