Need Help?

More Information

Description
Process-Scale Virus Filter Prefiltration
Pall Pegasus Protect virus prefiltration membrane is tailored to provide protection to Pegasus Prime virus filters and to deliver the highest level of robust filter performance in more challenging process fluids. The combination of Pegasus Protect and Pegasus Prime filters increases throughput and leads to a reduction in processing costs through a reduction in virus filter sizing and processing times.
The range of process-scale filter cartridges and capsules containing Pegasus Protect prefiltration media is designed to maintain a constant area ratio between prefiltration and virus filtration at all scales and are optimized for use with filter cartridges and capsules containing Pegasus Prime virus removal membrane.
Features and Benefits
 
Removes filter plugging substances
Reduce plugging of Pegasus Prime virus filters

Smaller virus filter sizing
Minimized cost of goods
Shorter processing times
Increased robustness to natural process fluid variation

The scale-up range provides a consistent prefilter to virus filter area ratio at all scales
Consistent performance

Controlling scaling risks
Faster, simple scale-up

 
Specifications
 
Materials of Construction
Filter Cartridges
Kleenpak Nova Capsules
Filter Membrane
Nylon
Nylon
Support and Drainage
Polyester
Polyester
Endcap and adaptor
Polyester
Polyester
Core and cage
Polypropylene
Polypropylene
O-rings
Silicone elastomer
Silicone elastomer
Capsule hardware
--
Polypropylene
Valve seals
--
Silicone elastomer
 
Retention Ratings
Pore size
0.2 μm nominal
 
 
Effective Filter Area (EFA) (Nominal)
10 in. 0.7 m2
20 in. 1.4 m2
30 in. 2.1 m2
 
Operating Parameters
Maximum Temperature
40 °C
40 °C
Maximum Pressure
5.4 bar (76 psi) at 20 °C
5.4 bar (76 psi) at 20 °C
3.0 bar (43.5 psi) at 40 °C
Maximum Differential Pressure
5.4 bar (76 psi) at 20 °C
3.0 bar (43.5 psi) at 40 °C
 
 
Recommended Operating Conditions
73 mbard (1.1 psid) or 7.3 L/min/10 in.*
 
* when used with filter cartridges or Kleenpak Nova capsules with Pegasus Prime virus removal media at 2.1 bard (30 psid)
 
Steam Autoclaving
Cumulative autoclave time
16 hours at 125 °C*
4 hours at 140 °C
 
*laboratory tests (1-hour cycles). Contact Pall for recommended procedures
WARNING: Kleenpak capsules must not be steam sterilized in-situ by passing steam through under pressure
 
Dimensions(Nominal)
Filter Cartridges
Kleenpak Nova Capsules
In-Line
T-Style
Length
254 mm(10 in.)
508 mm(20 in.)
762 mm(30 in.)
335 mm(13.2 in.)
584 mm(23.0 in.)
834 mm(32.8 in.)
349 mm(13.7 in.)
598 mm(23.5 in.)
848 mm(33.4 in.)
Diameter including
n/a
154 mm(6.1 in.)
240 mm(9.5 in.)
Connection Type
n/a
1 in. sanitary flange
 
Performance
Figure 1
Impact of Pegasus Protect Prefiltration on Required Virus Flters Per Batch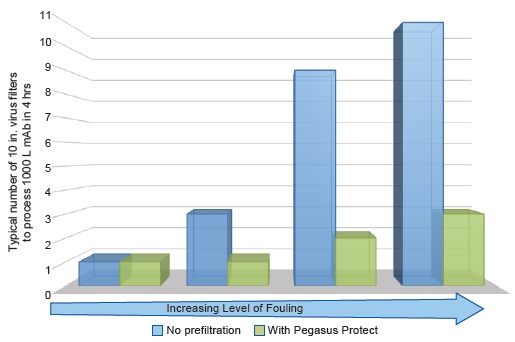 Scalable Solutions
Prefiltration area and flowrate are critical variables that may affect the throughput of Pegasus Protect prefiltration and Pegasus Prime virus removal filters when used in combination.
To control these variables Pegasus Protect prefiltration media is available in a range of formats designed to maintain a consistent prefilter to virus filter ratio. This control ensures predictable and consistent performance at all scales from the initial Microdisc scale trials to large-scale clinical manufacturing.
 
 
Lab Scale
Development Scale
Full Scale
 
 
Area
 
Area
 
Area
Pegasus Protect Prefiltration
Microdisc
3.9 cm2
Kleenpak
286 cm2
20 in. Kleenpak Nova
1.4 m2
Pegasus Prime Virus Filtration 
Microdisc
2.8 cm2
Mini Kleenpak
205 cm2
10 in. Kleenpak Nova
1 m2
 
 
1.4 : 1
 
1.4 : 1
 
1.4 : 1
 
Ordering Information
Filter Cartridges
 
Part Number
Description
Pkg
AB1PRT7PH4
Pall 254 mm (10 in.) filter cartridges with Pegasus Protect prefiltration membrane. Nominal area 0.7 m2
1/pkg
AB2PRT7PH4
508 mm (20 in.) filter cartridges with Pegasus Protect prefiltration membrane. Nominal area 1.4 m2
1/pkg
AB3PRT7PH4
762 mm (30 in.) filter cartridges with Pegasus Protect prefiltration membrane.
Nominal area 2.1 m2
1/pkg
Kleenpak Nova filter capsules (in-line flow)
Part Number
Description
Pkg
NP6LPRTP1G
254 mm (10 in.) Kleenpak Nova filter capsules with Pegasus Protect prefiltration membrane. Nominal area 0.7 m2
1/pkg
NP7LPRTP1G
508 mm (20 in.) Kleenpak Nova filter capsules with Pegasus Protect prefiltration membrane. Nominal area 1.4 m2
1/pkg
NP8LPRTP1G
762 mm (30 in.) Kleenpak Nova filter capsules with Pegasus Protect prefiltration membrane. Nominal area 2.1 m2
1/pkg
Kleenpak Nova filter capsules (in-line flow) gamma sterilized
1/pkg
Part Number
Description
Pkg
NP6LPRTP1S
254 mm (10 in.) Kleenpak Nova filter capsules with Pegasus Protect prefiltration membrane. Nominal area 0.7 m2, gamma sterilized
NP7LPRTP1S
508 mm (20 in.) Kleenpak Nova filter capsules with Pegasus Protect prefiltration membrane. Nominal area 1.4 m2, gamma sterilized
1/pkg
NP8LPRTP1S
762 mm (30 in.) Kleenpak Nova filter capsules with Pegasus Protect prefiltration membrane. Nominal area 2.1 m2, gamma sterilized
1/pkg
Kleenpak Nova filter capsules (T-style flow)
Part Number
Description
Pkg
NT6PRTP1G
254 mm (10 in.) Kleenpak Nova filter capsules with Pegasus Protect prefiltration membrane. Nominal area 0.7 m2
1/pkg
NT7PRTP1G
508 mm (20 in.) Kleenpak Nova filter capsules with Pegasus Protect prefiltration membrane. Nominal area 1.4 m2
1/pkg
NT8PRTP1G
762 mm (30 in.) Kleenpak Nova filter capsules with Pegasus Protect prefiltration membrane. Nominal area 2.1 m2
1/pkg
Kleenpak Nova filter capsules (T-style flow) gamma sterilized
Part Number
Description
Pkg
NT6PRTP1S
254 mm (10 in.) Kleenpak Nova filter capsules with Pegasus Protect prefiltration membrane. Nominal area 0.7 m2, gamma sterilized
1/pkg
NT7PRTP1S
508 mm (20 in.) Kleenpak Nova filter capsules with Pegasus Protect prefiltration membrane. Nominal area 1.4 m2, gamma sterilized
1/pkg
NT8PRTP1S
762 mm (30 in.) Kleenpak Nova filter capsules with Pegasus Protect prefiltration membrane. Nominal area 2.1 m2, gamma sterilized
1/pkg