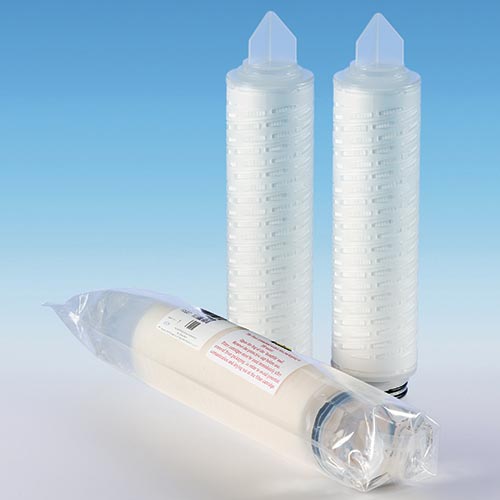 Need Help?

More Information

Description
Extending Virus Filter Capacity in the Most Challenging Feeds
Pegasus LV6 is a size-based prefilter delivering high flow and high capacity for aggregates in the nano meter range that would normally foul the virus filter.
Aggregates that foul virus filters come in different sizes and with different physiochemical properties. There are aggregates and/or conditions for which adsorption based pre filters fail and for which sized based prefiltration gives better performance in protecting and extending the life of the subsequent virus filter.
Pegasus LV6 membrane in combination with the patented Ultipleat® filter construction provides robust high flow rates and total throughput of both Pegasus LV6 and the subsequent virus filter, which minimizes process costs. The high filter area per filter cartridge reduces the required amount of filter elements per installation and also minimizes the total hold-up volume of the virus filter system by protecting the virus filter. The proven hydrophilic PVDF sub-microporous membrane enables high transmission of proteins.
Features and Benefits
Improvement of subsequent virus filter throughput and flow
Reducing virus filter sizing and cost
High flow rate and total throughput performance
High filter area per filter cartridge
Reducing prefilter sizing
Reducing total virus system hold-up volume
Low binding and high transmission for high protein yields
Prewetted for ease of use
SIP and CIP compatible
High Quality Standards
Manufactured in accordance with cGMP
Certificate of Test
Non-Fiber-Releasing per 21 CFR
Biological Tests:
Meets USP Biological Reactivity,in vivo, for Class VI-121 °C plastics
Effluent Quality Tests (P tests):1
Meets Cleanliness per USP Particulates in Injectables
Non-Pyrogenic per USP Bacterial Endotoxins (< 0.25 EU/mL)
Meets Total Organic Carbon and Conductivity per USP Purified Water, pH per USP packaged waters
1 Confirmed for each filter lot
Specifications
Materials Of Construction
Membrane
Acrylate-modified polyvinylidene fluoride (PVDF)
Membrane Support and Drainage Layers
Polyethylene/polypropylene
Core and Endcaps
Polypropylene
Filter Cage
Polypropylene with encapsulated reinforcing ring
O-rings
Ethylene propylene
Operating Conditions
Recommended Operating Differential Pressure
1 – 2 bar (14.5 – 29 psi differential)
Maximum Differential Pressure

4.1 bar (60 psi) during integrity testing

3.1 bar (45 psi) for continuous service

0.3 bar (5 psi) during steam sterilization
Autoclave/Steaming¹
Autoclavable or steamable in-situ for up to 3 cycles
Maximum Temperature 125 °C
¹ Contact Pall for recommended procedures to qualify filters under actual conditions of use.
Typical Aqueous Extractables (NVR)
Out of Box, T0
Average 32 mg, Standard Deviation 3.6 mg
After autoclaving at 125 °C ± 5 °C
Average 56 mg, Standard Deviation 3.6 mg
Filter Area (Nominal)
1.65 m² (17.8 ft²) per 254 mm (10 in.) element
Flow Rate/Differential Pressure
12 L/min per 254 mm (10 in.) module Water Flow Rate at 2.1 bar (30 psi) differential pressure

Process Scale-up with Pegasus Grade LV6 Virus Filters
Part Number
Filter Area
FTKLV6047025 – Box of 25 Filter Disks
11.1 cm² (0.012 ft²)
FTKLV604705 – Box of 5 Filter Disks
AB( )ULV67PJ
1.65 m (17.8 ft²) per 254 mm (10 in.)
Length Code: 1 = 254 mm (10 in.), 2 = 508 mm (20 in.), 3 = 762 mm (30 in.)
Other Pall Direct Flow Virus Filters and Prefilters with Hydrophilic PVDF membrane
Membrane Type
Description
UDV50
> 6 Log TR for viruses > 50 nm
DV20
> 3 Log TR for viruses > 20 nm
DVD
Sub 0.1 μm virus prefilter
DJL
0.1 μm (+ 0.2 μm prefilter layer)
DFL
0.2 μm (double-layer)
DBL
0.45 μm (+ 0.65 μm prefilter layer)