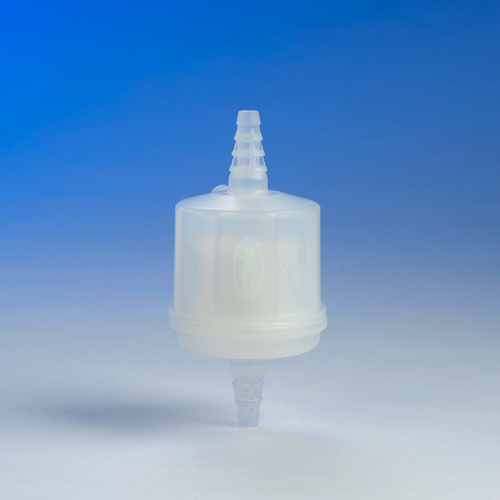 Unit of Measure
1/EA
Min Order Qty
1
Membrane Material
Polyvinylidene fluoride (PVDF)

Sterilization Option(s)
Suitable for Autoclave

See All Attributes
Constant, stable flow rate-performance filters for precise, economical scale-up in virus filter process development
With the ever-present risk of virus contamination in biologic products, potential sources of virus contamination of biotechnology products include viruses associated with cell lines (endogenous viruses), or viruses introduced into the cell line or product from culture medium or during the production process (adventitious viruses). Viruses could also potentially be present in donations for plasma derivatives.
The Mini Kleenpak Capsule Filterability Tool with Pegasus SV4 virus removal filter membrane is designed for quick and efficient filter sizing studies using small fluid volumes either following, or instead of bench scale flat disc trials. Studies performed using this device predict filtration area requirements of Pegasus SV4 membrane in larger, AB-style filter cartridges or Kleenpak Nova filter capsules. These full-process scale formats utilize a laid-over-pleat membrane construction to maximize available filtration area per filter element (2.25 m² per 254 mm [10 inch] module). Consult the relevant product datasheets USD2847 Pegasus SV4 Virus Removal Filter Cartridges, and USD2856 for Kleenpak Nova Filter Capsules with Pegasus SV4 Virus Removal Filter Membrane.
Features
Benefits
Precise scale-up1
Enables reliable, accurate scaling of flow rate and filter throughput; minimizes oversizing of large-scale virus filtration
Reliable down-scaling
Large-scale filter operating conditions can be applied, assuring consistently high quality
Small fill volume
Economical; minimizes amount of fluid required
100% quality-tested
Assures consistent performance
1 Mini Kleenpak Capsule Filterability Tools are for filter-sizing studies and evaluation during process development only. They are not qualified for virus removal. Pall Corporation provides filters for use during drug manufacture or for animal, human therapeutic or diagnostic needs. Please contact Pall for details of filters where needed as Mini Kleenpak Capsule Filterability Tools are not intended for these purposes.
 Materials of Construction
 
Item
Material
Membrane
Hydrophilic modified polyvinylidenedifluoride (PVDF)
Support/Drainage
Polyester
Capsule Shell, Core and Endcaps
Polypropylene
Sealing Technology
Thermal bonding without adhesives
 
 Operating Parameters1
 
Maximum Operating Temperature
38°C
Maximum Operating Pressure
4.1 barg (60 psig) 
Recommended Operating Differential Pressure
2.1 to 3.1 bard (30 to 45 psid)
 
 Nominal Dimensions
 
Maximum diameter including valves
53 mm (2.1 in.)
Length
105 mm (4.1 in.)
Nominal Effective Filter Area (EFA)
580 cm2 (0.62 ft2)
 
1 In compatible fluids which do not soften, swell or adversely affect the filter or its materials of construction
Regulatory/Quality Documentation
Filters designed for quick and efficient filter sizing studies using small fluid volumes either following, or instead of bench scale flat disc trials