Pall Posidyne filter cartridges incorporate a patented covalent charge-modified Nylon 6,6 membrane which exhibits a net positively-charged Zeta potential in aqueous solutions. This positive Zeta potential provides enhanced retention of fine particles smaller than the membrane's rating, such as endotoxins in water, in a direct flow mode without the higher pressure drop of finer filters. High-area pleated into single open-ended (SOE) AB sanitary-style cartridges, N66 Posidyne filters are available in particulate and bioreduction grades and in sterilizing-grades.
Features and Benefits
Inherently water wettable 
Resin and surfactant-free 
Positive Zeta potential 
Enhanced retention of particles smaller than filter rating
Removes endotoxins from water
High protein recovery from sera and most protein solutions 
Low filter extractables 
100% integrity-tested 
Individually serialized 
Manufactured for use in conformance with cGMP 
ISO 9000 Certified Quality System 
Pharmaceutical P optimized grades with Certificate of Test provided
Validation Guide available
Note: These filters are also available in Kleenpak Nova capsule format.

Quality and Bio-Safety

Biological Tests
Meets USP Biological Reactivity Test, in vivo, for Class VI-121 °C Plastics
Effluent Quality Tests*
Meets Cleanliness per USP Particulates in Injectables 
Non-Fiber-Releasing 
Non-Pyrogenic per USP Bacterial Endotoxins (< 0.25 EU/mL) 
Meets Total Organic Carbon and Water Conductivity per USP Purified Water, pH per USP Sterile Purified Water
* Per lot sample soak or rinse-up flush aliquots.
Materials of Construction
Membrane
 Nylon 6,6, covalently-modified positive Zeta
Supports, Drainage and End Caps
 Polyester
Core and Cage
 Polypropylene
 O-ring
 Silicone1
1 Other polymers available.
Microbial Removal Ratings2
NNXZ
 0.45 µm microbial-rated (Typical Serratia marcesens TR > 10

9

)
NXZ, NLZ
 0.45 µm microbial-rated
NBAZ, NAZ
 0.2 µm microbial-rated (Typical Brevundimonas diminuta TR > 10

4

– 6

)
NIZ
 0.1 µm microbial-rated (Typical Brevundimonas diminuta TR > 10

9

)
NFZ
 0.2 µm sterilizing-grade
NTZ
 0.1 µm sterilizing-grade
2  Lot samples retain > 107 cfu/cm2 of an appropriate challenge organism per mod. ASTM F838-83 and FDA guidelines; NXZ, NLZ: Serratia marcescens; NFZ, NTZ, NDZ: Brevundimonas diminuta; NTZ also retains > 107 cfu/cm2 Acholeplasma laidlawii mycoplasma.
Nominal Dimensions
Lengths 
 254 mm (10 in.), 508 mm (20 in.), 762 mm (30 in.), 1016 mm (40 in.)
 Diameter
 70 mm (2.75 in.)
Operating Conditions3
 Maximum Differential Pressure and Temperature
5.5 bard (80 psid) to 50 °C
4.1 bard (60 psid) to 80 °C
3 Using compatible fluids.
Configuration (AB Code 7)4
Double 226 O-ring adapter
Fin end with bayonet lock
4 Alternate adapter styles available.
Typical Liquid Flow Rate5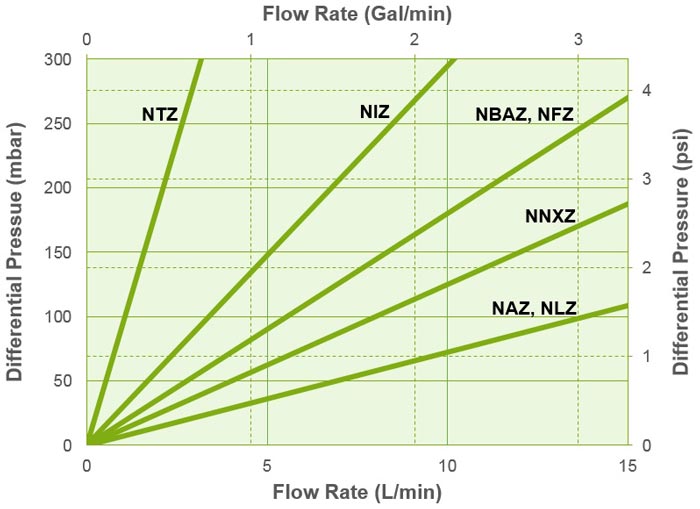 5 Typical initial clean media ∆P 254 mm (10 in. element; water at 20°C; viscosity 1 cP. For assistance in filter assembly sizing and housing selection, contact your local Pall representative.
Autoclavable or Steamable In Situ6
 Cumulative Steam Exposure
16 hours (1-hour cycles) at 121 °C
4 hours (1-hour cycles) at 140 °C
6 Laboratory tests to establish multi-cycle resistance. Filters should be qualified in actual use. Contact Pall for recommended procedures.

Aqueous Extractables (NVR) per 254 mm (10 in.) Element
Particle Removal Efficiencies
 Endotoxin Removal Efficiency7
> 99.997% to 0.16 gm E. coli endotoxin
 Polystyrene Bead Efficiency8
NLZ, NAZ, NIZ to > 1 gm loading: > 99.99% for 0.04 µm beads
NFZ, NTZ to > 2 – 10 gm loading: > 99.99% for 0.04 µm beads
7 Determined for 254 mm (10 in.) elements challenged in deionized water. No endotoxin detectable in effluent using LAL reagent with sensitivity of < 0.5 EU/mL.
8 Determined for 254 mm (10 in.) elements challenged in deionized water. Capacity determined at breakthrough (effluent turbidity).
Sterilizing-Grade Liquid Filtration
Regulatory/Quality Documentation
Posidyne® Filter Cartridges are the ideal components for fine particle retention. All Pall filters are 100% integrity tested and manufactured under GMP compliance. The construction is resin free with wettable capabilities. Posidyne has Zeta potential to provide enhanced particle retention and endotoxin removal. Filters are available in bioreduction and sterilizing grades as well to best fit several biotech systems.