Single-use
Water Filter
for
Use
on
Faucets
(taps) for
Municipal Water in Air Locks and Related Applications
The water used for handwashing in airlocks is typically municipal water from the plant's water distribution system. Kleenpak bacteriostatic water filters are designed to ensure thehigh microbial quality of this water and to eliminate risks of inadvertent carry-over of waterborne bacteria from the water supply system into the production area. The filter hardware is impregnated with a silver-based bacteriostatic additive, which helps to avoid retrograde contamination of the filter system.
Features
Pre-sterilized capsule filter with quick-connect inlet
0.2 µm sterilizing grade Supor® PES membrane filter with integrated prefiltration
Filter hardware equipped with bacteriostatic additives
Each filter is tested for integrity, and every filter lot is tested for bacteria retention
Benefits
Ready-to-use filters with minimized service requirement
High flux membrane with excellent chemical compatibility and high dirt-hold capacity
Reduced risks of retrograde contamination of filter system
Reproducibly high product quality
Materials Of Construction
Membrane  
Double layer 0.2 µm Polyethersulfone
Endcaps, Support and Drainage Layers
Polyester
Capsule Shell
Pigmented polyester with silver-based bacteriostatic additives
Other Hardware
Polypropylene
O-Ring
EPDM Elastomer
Nominal Dimensions
Length 
 72 mm (2.8 in.)
Diameter
 78 mm (3.0 in.)
Filter Area
 460 cm² (0.5 ft²)
Operating Characteristics*
Maximum Operating Pressure 
5 bar g (72.5 psi)
Maximum Operating Temperature
 60 °C (140 °F)
* For municipal water
Typical Water Flow Rates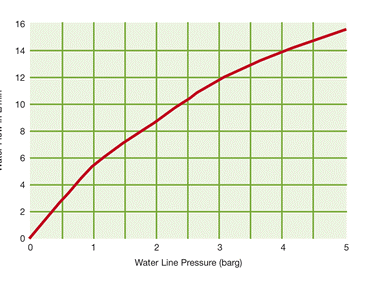 Kleenpak Water Filters can be used with water containing up to 1 ppm of ClO2
Kleenpak Water Filters are supplied pre-sterilized by gamma irradiation - the sterilization procedure has been validated to the ANSI/AAMI/ISO11137 method
Kleenpak Water Filters may not be resterilized by gamma, steam or autoclave sterilization
Part Number*
Description
Quantity Per Box
KAQ14F1S
Kleenpak Water Filter
10 units per box, individually bagged
TAP1/2FV
Quick Connect Coupling with ½ in. BSPPL, female
1
TAP1/2MV
Quick Connect Coupling with ½ in. BSPPL, male
1
TAP22FV
Quick Connect Coupling with 22 mm thread, female
1
TAP24MV
Quick Connect Coupling with 24 mm thread, male
1
* Other accessories available on request
To minimize waterborne contamination, Kleenpak™
bacteriostatic water filters
provide a single-use option to provide a
ready-to-use
filter with little service requirement. The filter hardware includes bacteriostatic additives for high bacteria retention and integrity. Pall ensures safer municipal water for
handwashing
with
a
0.2 µm sterilizing grade Supor® PES membrane filter with integrated prefiltration.