The Pall Advanta range of filter housings has been specifically designed and engineered for today's manufacturing processes. These advanced housings are manufactured from 316L stainless steeland are engineered to meet the requirements of the BioParmaceutical industry. State-of-the-art manufacturing technologies are used to construct a housing ideal for the most critical of applications.
Fine filtration of liquids and gases is a key part of many production processes.These Pall Advanta housings have been specifically designed to meet the many requirements of these demanding applications. Optimization of critical features during the design process has provided a housing range which ensures trouble-free use and low installation and maintenance costs. Areas included in this process were:
Surface finish
Suitability for CIP and SIP
Integrity testing
Incorporation into automated production processes
Features and Benefits
Aseptic design

Crevice-free electropolished surfaces with an internal Ra value of ≤ 0.375 µm (≤ 15 µin.)
Fully self draining
No dead legs

Low hold-up volumes for maximum product recovery
Quick fit Stäubli* type connections for easy filter integrity testing
Easy to use low point sanitary drain valve
Range of options to aid use in automated production systems
Every housing supplied with a quality certificate and manufactured to ATEX Directive 2014/34/EU (Group ll Category 2)
CE marked in accordance with Pressure Equipment Directive 2014/68/EU
* Stäubli is a trademark of Stäubli AG.
Materials of Construction
 
Housing 
AISI 316L Stainless Steel
Clamp
431 Stainless Steel
Seals
Silicone elastomer
Surface Finish

All electropolished

Internal: 
Ra ≤ 0.375 µm (≤ 15 µin.) (typical)
External: 
Ra ≤ 0.8 µm (≤ 32 µin.) (typical)

Documentation
Certificate type 2.3 to EN10204
 
Operating Conditions
 
Maximum Operating Pressure 
-1¹ to 10 barg '(-14.5(1) to 150² psig)
Maximum Operating Temperature
150 °C (300 °F)
 
¹ Full vacuum
² With compatible fluids, which do not soften, swell or adversely affect the gasket materials
Nominal Dimensions
 
Part Number 
Overall Height
Clearance Required
Weight 
ALI105G23LABH4 
ALI105G23LDDH4
301 mm (11.8 in.)
150 mm (5.9 in.)
2.2 kg (4.8 lbs)
ALI11G23LAAH4
ALI11G23LABH4   
ALI11GA23LDDH4
437 mm (17.2 in.)
310 mm (12.2 in.)
2.6 kg (5.7 lbs)
ALI12G23LABH4
ALI12G23LDDH4
688 mm (27 in.)
564 mm (22.2 in.)
3.5 kg (7.7 lbs)
ALI13G23LABH4
ALI13G23LDDH4
961 mm (37.8 in.)
818 mm (32.2 in.)
4.3 kg (9.47 lbs)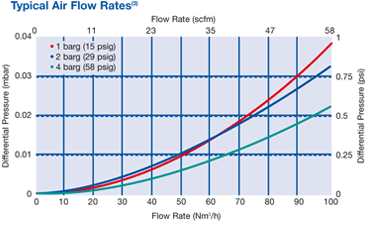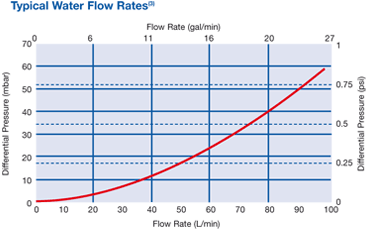 ³ The flow and pressure drop characteristics refer to the empty housing only for water at 20 °C (68 °F). For other liquids multiply pressure drop by relative density. To obtain the total pressure drop of a complete filter assembly, the cartridge pressure drop must be added
Gas Filtration: This housing style is suitable for use in the filtration of gases and the inline design ensures that the pressure drops are exceptionally low. Pall recommend using the cartridge pressure drop when calculating the system pressure drops. Please refer to the relevant cartridge literature or contact Pall
Housings, Vessels, and Assemblies
Air, Gas, and Vent Filtration

Main Accessories and Spares¹
 
Part Number
Description
ACS0598CM
Diaphragm valve kit for 1/2 in. sanitary flange connections including clamp and silicone gasket
ACS0602EM
Silicone housing valve gasket kit
KORH4PW-238
Closure Seal (Silicone)
KORJPW-238
Closure Seal (Ethylene Propylene)
KORHPW-238
Closure Seal (Fluorocarbon)
KORH1PW-238
Closure Seal (FEP ENC Fluorocarbon)
ACS0607DA
Closure Clamp
KCC41608C00SUB
Valve Stem
ACS0703CA
Valve Retaining Nut
ACS0731AA
Valve Plastic Retaining Nut
ACS0600EM
Valve Seal Kit-Fluorocarbon/PTFE (10 per)
ACS0605EM
Valve Seal Kit-Ethylene Propylene/PTFE (10 per)
 
¹ Contact your Pall representative or local representative for other spares and accessories
Aseptic design with corrosion resistant finish and self-draining features, Advanta™ In-Line Liquid and Gas Filter Housings are a key part of any production process. Suitable for both CIP and SIP functions, these housings enable optimization of automated processes using high quality construction.