Pall Ultipor GF Plus filter cartridges are made with positive Zeta modified glass fiber media for enhanced efficiency. The single open-ended (SOE)
filter cartridges are
AB style
and
feature a high-area pleated element construction designed to fit in sanitary style filter housings. A bio-safe low extractables binder resin covalently immobilizes the glass fibers and imparts a strong positive charge in aqueous service. In addition to the high particulate removal efficiency and low pressure drops consistent with glass fiber media, the added positive Zeta charge enables Ultipor GF Plus
SOE filter cartridges
to effectively remove submicron haze particles or endotoxins from a wide variety of aqueous biological and pharmaceutical solutions.

Pharma Quality for Highest Quality Requirements
Ultipor GF Plus SOE filter cartridges are manufactured per ISO9000 and GMP requirements. Each filter is supplied with a certificate of test that confirms suitability for use in pharmaceutical applications. Samples are tested for effluent quality to meet the USP requirements regarding
Total Organic Carbon
pH shift
Endotoxins
All components meet the specifications for biological tests listed in the USP for Class VI plastics at 121 °C. Each box contains a certificate that confirms the quality standards in manufacturing, the traceability of all components, and the above-mentioned safety tests.
Features and Benefits
Positive Zeta enhances efficiency
High area pleated medium
High void-volume
Low differential pressures
Absolute particle-rated in liquids
High-capacity for long-life
Fixed pore structure prevents unloading
Melt-sealed construction
Broad chemical compatibility
Choice of AB (SOE) sanitary or (DOE) cartridge styles
Manufactured for use in conformance with cGMP
FDA-listed materials per 21 CFR
ISO 9000 Certified Quality System
Materials of Construction
 Medium
Bonded glass fiber, positive zeta potential
 Support and Drainage Layers
Polyester
 Core, Cage and End Caps
Polypropylene 
 O-ring
 Silicone 1
1 Other materials available on request
Removal Ratings (Liquid)2

1 µm, 2 µm, 6 µm, 10 µm*, 20 µm, 40 µm
2 > 99.98% by mod. OSU-F2 Beta test
Endotoxin Removal Efficiency3
 U010Z
 100 %
 U2-20Z
  99.97 %
3 Efficiency in deionized water with up to 55 – 70 mg E. coli 055-B5 endotoxin per 254mm (10 in.) modular element.
Latex Bead Removal Efficiency4
U010Z
   99.99% for 0.29 µm beads to 2.8 gm
U2-20Z (20/2 µm)
    99.99% for 0.8 µm beads to 22 gm
4 Efficiency in deionized water per 254 mm (10 in.) modular element

Nominal Dimensions
 Lengths
 254 mm (10 in.), 508 mm (20 in.), 762 mm (30 in.), 1016 mm (40 in.)
 Diameter
 70 mm (2.75 in.)
Typical Liquid Flow Rates5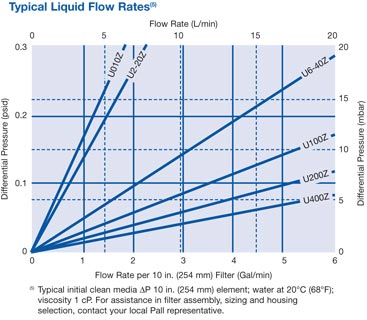 Operating Conditions6
 Maximum Differential Pressure and Temperature
5.5 bard (80 psid) to 50 °C
3.8 bard (55 psid) to 82 °C
6 Using compatible fluids.
Autoclaving and Steaming in situ7
 Maximum Temperature to 140 °C
7 Contact Pall for recommended procedures.
A range of filters featuring positive Zeta modified glass fiber media for enhanced efficiency.