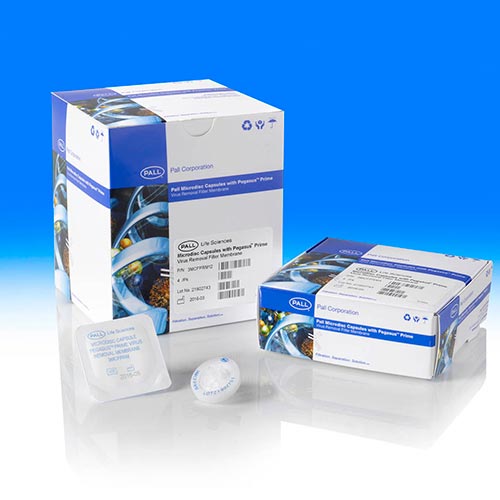 Need Help?

More Information

Description
Small Virus Removal for Bioprocesses
Pegasus Protect virus prefiltration combines with Pegasus Prime virus filtration to deliver the first gamma-sterilized pre-filter & virus filter combination. Together, these simplify process development, validation and operations while saving time and delivering improved process economy.
Process developers can quickly deliver a robust, scalable virus filtration process using a minimum of sample volume, and be confident of successful virus validation. This choice supports clinical manufacturing with a solution that is easy to use and versatile to work alone or with integrated and automated single-use systems.
The Microdisc capsules containing Pegasus Prime virus media are ideal for the confirmation and validation of performance at a small scale using minimal volumes of process fluid and virus spike preparations and deliver consistently high log reduction value (LRV) irrespective of the virus validation choices.
The predicted process flow, filter capacity or virus retention established during these studies scales to a range of products available to support your process at all scales and offer the highest degree of manufacturing control, flexibility and security.
Features and Benefits
 
Robust high LRV, independent of process fluid, process parameters or validation procedure
Reliable performance and assured patient safety

Minimized risk of validation variation or failures ensures rapid process development

Robust capacity and high flow
Small filtration footprints and short process times

Economic processes and easy integration into automated processes

Gamma irradiated > 25 kGy
Virus clearance and process performance representative of larger manufacturing scale devices.
Full scale-up range with identical membrane at all scales
Reliable scalability

Meaningful process prediction with minimal fluid volumes

Full pre-filter scale-up range with consistent pre-filter to virus filter area ratios
Control scale-up risks

Faster, simplified scale-up

Easy to use
Luer Lock connectivity for easy testing