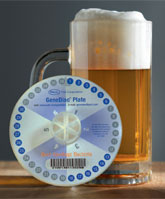 Need Help?

More Information

Description
Beer is quite restrictive to bacterial growth due to its characteristics (low pH, ethanol concentration, low oxygen content), but a few bacterial genera, including Lactobacillus, Pediococcus, Pectinatus, and Megasphaera, can generate off-flavors, turbidity and acidity. Related bacterial beer spoilage can generate high economic losses and impact brand image.
Furthermore, labor intensive and lengthy investigations after spoilage detection can increase these risks as spoilage can originate from a wide variety of sources throughout the brewing process. These investigations can generate increased losses, either from continued production of spoiled product or product interruptions.
Pall GeneDisc solutions help brewers reduce these risks by enabling the following:
Implementation of Decision making tests at key control points of the process
Fast investigations after spoilage detection
GeneDisc System Benefits
Rapid — Pall's GeneDisc method allows a simultaneous detection and identification of beer spoilage bacteria in a few days and colony identification in 2 hours.
Easy to use — GeneDisc solutions are designed for routine use. Implementing PCR (Polymerase Chain Reaction) has never been this easy.
Modular — Scalable PCR system with 1 to 8 units adapts to evolving testing needs.
A Solution Designed for Breweries
Pall offers two methods for spoilage monitoring in beer samples depending on the brewery requirements:
a sensitive method including an enrichment step to guarantee absence of spoiler in the sample
a very fast method enabling monitoring of a low level of spoilers in less than 3 hours
Pall's GeneDisc method for beer spoilers can simultaneous detect and identify 24 of the major beer spoiling microorganisms including:
Lactobacillus brevis
Lactobacillus lindneri
Lactobacillus backii
Lactobacillus collinoides and L.paracollinoides
Lactobacillus group: L.casei, L. paracasei, L.coryniformis, L. rossiae, L.parabuchneri (= frigidus), L.perolens and L.plantarum
Pediococcus (P. damnosus, P. inopinatus, P. claussenii)
Pectinatus (P. cerevisiiphillus, P. frisingensis, P. haikarae, P. portalensis)
Megasphaera spp. (M. cerevisiae, M. elsdenii)
Reliable approach – Our approach is based on the detection of stable genes. GeneDisc method overcomes limitations of resistance genes based methods and can be used for all product types (e.g. radler style beers), with reliable results not influenced by resistance gene variability or by detection of genes not necessarily related to bacteria spoilage ability.
Reliable results – To ensure result accuracy, each sample analysis includes an internal positive control. In addition, results from internal and external studies demonstrated the method was able to accurately detect the presence of beer spoilage bacteria even at low contamination levels in beer samples.
Easy to use – GeneDisc method allows clear beer spoilage bacteria detection and identification from various sample types including in-process and final product samples.