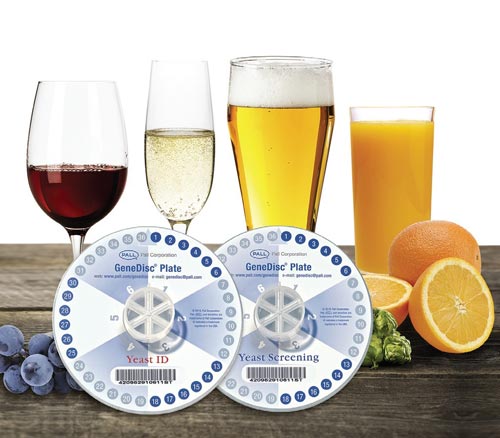 Need Help?

More Information

Description
For the rapid and flexible detection and identification of spoilage yeast in beverages
The role of yeast within fermentation is central for the production of fermented alcoholic beverages. In addition to this beneficial role, yeasts can also cause spoilage to alcoholic beverages both during and after fermentation.
Spoilage yeast growth can affect the chemical composition of the beverage, generating off flavors, undesirable aroma or altered appearance. It can also lead to broken packaging due to increasing pressure. Such spoilage can generate high economic losses and impact brand image.
Labor intensive and lengthy investigations after spoilage detection can generate further spoilage risks as origination can come from a wide variety of sources throughout the production process. Long investigations can increase losses as higher volume of spoiled product could be produced or production could be interrupted for a long period of time.
Pall GeneDisc Technologies help breweries to reduce these risks with solutions enabling the following:
Implementation of rapid decision making tests for product release and key control points of the process
Fast investigations after spoilage detection
GeneDisc System Benefits
Rapid — Pall's GeneDisc method allows detection and identification of spoilage yeast via direct monitoring and Brettanomyces quantification in as fast as 2 hours. For methods requiring enrichment results can be available in 30 hours as compared to 5 to 7 days with culture method.


Flexible — Analysis with enrichment ensures high sensitivity (as low as 1 cell/sample) when precise information is the priority, while direct monitoring offers low level detection when faster time to result is the driver.
Easy to use — GeneDisc solutions are designed for routine use. Implementing PCR (Polymerase Chain Reaction) has never been this easy.
Modular — Screening and identification solutions allow testing on various sample types.
Solutions Designed for Beverage Industry
Pall's solution for yeast provides customers with 2 GeneDisc plates for different testing option:
 
GeneDisc Plate for Yeast Screening
GeneDisc Plate for Yeast ID
Screens for yeast
Detects and identifies 12 major spoilage yeast strains and species simultaneously
For testing yeast-free samples (e.g.bottled product, raw materials,soft drinks)
For assessing risk associated with spoilage detected using the GeneDisc Plate for Yeast Screening For testing wild spoilage yeast in samples containing process yeast
For Brettanomyces quantification in wine samples.
 
Reduced hands-on cost – Ease of use simplifies testing workflows and on-site implementation.
Spoilage Yeast ID
 
Major Spoilage Yeast

Saccharomyces spp. (including S. cerevisiae, S.pastorianus, S. cerevisiae var. diastaticus)
Brettanomyces / Dekkera spp. ( including B. /D. bruxellensis )
Candida spp. / Pichia spp.
Zygosaccharomyces spp. (including Z. bailii )
Saccharomycodes spp.
Schizosaccharomyces spp.

Organoleptic Impact

Off-flavors and sensory defects (e.g. acetic acid, phenolic compounds, esters, acetaldehyde)
Film formation
Turbidity
Sediment
Unwanted alcoholic fermentation

Effect on Process

Decreased filterability
Exploding bottles or bulging cans