Beer is quite restrictive to bacterial growth due to its characteristics (low pH, ethanol concentration, low oxygen content), but a few bacterial genera, including Lactobacillus, Pediococcus, Pectinatus, and Megasphaera, can generate off-flavors, turbidity and acidity. Related bacterial beer spoilage can generate high economic losses and impact brand image.
Furthermore, labor intensive and lengthy investigations after spoilage detection can increase these risks as spoilage can originate from a wide variety of sources throughout the brewing process. These investigations can generate increased losses, either from continued production of spoiled product or product interruptions.
Pall GeneDisc solutions help brewers reduce these risks by enabling the following:
Implementation of Decision making tests at key control points of the process
Fast investigations after spoilage detection
GeneDisc System Benefits
Rapid — Pall's GeneDisc method allows a simultaneous detection and identification of beer spoilage bacteria in a few days and colony identification in 2 hours.
Easy to use — GeneDisc solutions are designed for routine use. Implementing PCR (Polymerase Chain Reaction) has never been this easy.
Modular — Scalable PCR system with 1 to 8 units adapts to evolving testing needs.
A Solution Designed for Breweries
Pall offers two methods for spoilage monitoring in beer samples depending on the brewery requirements:
a sensitive method including an enrichment step to guarantee absence of spoiler in the sample
a very fast method enabling monitoring of a low level of spoilers in less than 3 hours
Pall's GeneDisc method for beer spoilers can simultaneous detect and identify 24 of the major beer spoiling microorganisms including:
Lactobacillus brevis
Lactobacillus lindneri
Lactobacillus backii
Lactobacillus collinoides and L.paracollinoides
Lactobacillus group: L.casei, L. paracasei, L.coryniformis, L. rossiae, L.parabuchneri (= frigidus), L.perolens and L.plantarum
Pediococcus (P. damnosus, P. inopinatus, P. claussenii)
Pectinatus (P. cerevisiiphillus, P. frisingensis, P. haikarae, P. portalensis)
Megasphaera spp. (M. cerevisiae, M. elsdenii)
Reliable approach – Our approach is based on the detection of stable genes. GeneDisc method overcomes limitations of resistance genes based methods and can be used for all product types (e.g. radler style beers), with reliable results not influenced by resistance gene variability or by detection of genes not necessarily related to bacteria spoilage ability.
Reliable results – To ensure result accuracy, each sample analysis includes an internal positive control. In addition, results from internal and external studies demonstrated the method was able to accurately detect the presence of beer spoilage bacteria even at low contamination levels in beer samples.
Easy to use – GeneDisc method allows clear beer spoilage bacteria detection and identification from various sample types including in-process and final product samples.
Beer Spoilage Bacteria ID
 
Bacteria Genus
Description
Can Generate Turbidity
Main Associated Off-flavors
Lactobacillus
Gram + bacilli
Yes
Lactic acids
Pediococcus
Gram + cocci
Yes
Diacetyl
Pectinatus
Firmicutes
Yes
Sulphur compounds (e.g. H2S)
Megasphaera
Firmicutes
Yes
Valeric and isovaleric acids
 
How the System Works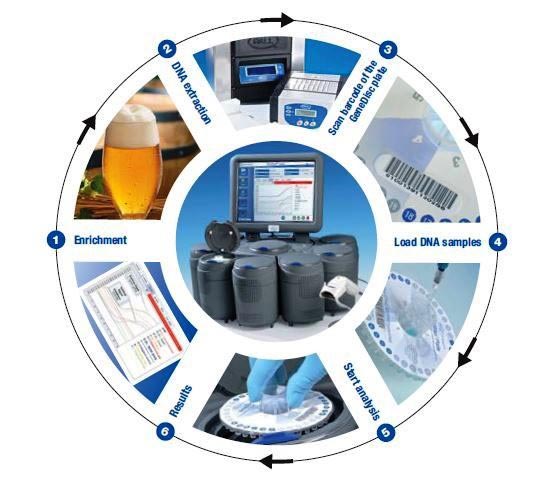 Technical Information
 
Enrichment Time
With common broths (e.g. MRS or NBB). (The enrichment step is not required for the direct monitoring method.)
Sample Preparation Time
< 1 hour for 48 samples with Extraction Pack Food 1
Hands-on Time
About 45 minutes for 48 samples ( < 1 min/sample)
PCR Cycle Time
< 1 hour
Limit of Detection
(after enrichment)

25 GU/PCR well for Pectinatus spp., L. backii, (after enrichment) L. brevis, L. lindneri, L. collinoides & paracollinoides
50 GU/PCR well for Pediococcus spp.
100 GU/PCR well for Megasphaera spp., Lactobacillus group

Compatible with

Filterable samples (e.g. filled product, water)
Unfilterable samples (e.g. green beer, wort, yeast propagation)

Internal Positive Control
Ensure PCR reaction is not affected by the presence of inhibitors for each sample DNA extract
 
Diagnostics, Monitoring, Testing
Application Bulletin
Posters
Fast and Reliable Detection of Beer Spoilage Bacteria for Routine Analysis – Field Results, Ziehl J. et al., Pall Corporation and BITBURGER BRAUGRUPPE GmbH.
Practical Application of qPCR for Monitoring and Improving Brewery Sanitation, Fyfe L. et al., Craft Brew Alliance and Pall Corporation.
Performance Evaluation of the GeneDisc Method for Detection of Beer Spoilage Bacteria, Bonilla S. et al., Pall Corporation.
Implementation of Real-time PCR to Ensure Bacteria Free Yeast Propagations in a Mid-sized Craft Brewery, Bailey B., Tröegs Brewing Co.
 
Part Number
Description
Samples/pack
Equipment
EGDUL1A230 (EU)
EGDUL1A120 (US)
GeneDisc Ultra-Lyser
-
EGDCV3A
GeneDisc Cycler Base Unit
-
EGDSV3A
GeneDisc Cycler Sub Unit
-
 
Consumables
PFOOD1100
Extraction Pack Food 1
100
GBSPOBC306006
GBSPOBC303012

GeneDisc Beer Spoilage Bacteria
36
 
We also offer a full product range for pathogen detection in food and water as well as detection and identification of Alicyclobacillus in beverages.
Quantitative tests for pathogens in water (Legionella, E. coli, Enterococcus…) are also available.
For more information including part numbers please contact us.