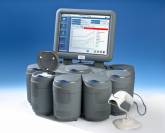 Need Help?

More Information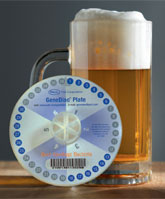 Unit of Measure
1/EA
Min Order Qty
1
Description
An easy, rapid, reliable method for pathogen detection
Pall's GeneDisc system has been successfully established in many of the world leading food and environmental industries. The equipment's automation allows less specialized and minimally-trained personnel to routinely perform sophisticated biological sample testing. Part of the GeneDisc system, the GeneDisc Cycler is a robust, real time PCR platform for the rapid, sensitive and specific detection of microorganisms, in a matter of hours. It is comprised of a base unit plus up to seven sub-units - each of the units can hold one GeneDisc plate. The plate's unique, proprietary design enables the detection of a range of microorganisms simultaneously within the same sample DNA extract.
The Cycler performs gene amplification in the plate, and each plate can be used to test either six, nine or twelve samples in parallel. When all sub-units are in use, the Cycler can analyze up to 96 samples in an hour. The unique, modular nature of the GeneDisc cycler offers the flexibility to fit your work flow requirements and to process different applications simultaneously.
Features
Easy To Use 
Flexible, modular system
Multi-target measurement
At-a-glance display of results
Seamless data transfer with capability for bi-directional LIMS connectivity
Benefits
No need for technical skills
Conduct multiple applications at once
Detect and quantify a range of important microorganisms in a single assay
Suitable for use in a cGMP environment
Minimum operator intervention and reduced risk of cross-contamination
Enables rapid decision-making
Optimize your workload
Why wait days to get results? Accelerate your testing with the GeneDisc Cycler – part of Pall's simple to use, convenient, reliable and cost-effective GeneDisc system.
Did You Know?
Pall's GeneDisc technology is being used by Germany's national reference laboratory to expedite testing of food samples for the toxic pathogen known as E.coli O104:H4 (STEC) -  a deadly strain that has sickened nearly 3000 people and disrupted that nation's food industry.

For more information, click here: http://news.pall.com/article_display.cfm?article_id=4587
Pall's GeneDisc technology is also the first to receive the AOAC Research Institute's multi-parametric validation of a detection method for four serogroups of the most common non-O157 Shiga toxin-producing E. coli (STEC) in ground beef and beef trim. The GeneDisc system enables producers to test simultaneously for the pathogenic E. coli O157 and four of the top six non-O157 STEC (O26, O103, O111, O145) that the U.S. Department of Agriculture (USDA) identifies as key targets in its new laboratory guidance (MLG 5B.00).

For more information, click here: http://news.pall.com/article_display.cfm?article_id=4571
Download the GeneDisc Cycler flyer here in
English
or
French
.
Video