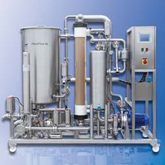 Need Help?

More Information

Description
At the Forefront of Separation Technology
With the introduction of the new generation Oenoflow System, the XL series, wineries are setting new standards in achieving quality, yield and efficiency. A more compact footprint, reduced waste volumes, and better process control, enable wineries of all sizes to further reduce operating costs whilst maintaining absolute respect for the qualitative characteristics of the wine.
Oenoflow Technology
By eliminating the drawbacks of traditional diatomaceous earth (DE) and sheet filtration Oenoflow filtration systems have become the preferred technology in the wine-making industry. The hollow fiber system enables wineries to remove suspended contaminants from wine in a reliable, reproducible and single process step. Clarification is achieved without the need for filter aids, centrifugation or interference with the chemical, physical or organoleptic components of the wine. Cost savings is realized by reducing wine loss, consumables and labor. Furthermore, with a DE-free process and no solid waste for landfill, both environmental and operator safety are improved. The new Oenoflow XL systems combine the strong points of the existing systems with new high area modules and improved process control resulting in manufacture of more compact and economical systems.
A Remarkable Membrane
Wine is a fluid rich in complexity with a delicate chemical and physical balance. It is essential to work with an inert filtration membrane to preserve the taste and balance. At the same time, the contaminants, whether from wine's natural evolution or a result of the manufacturing process, can be very small in size. The membrane must be designed to handle these solids whilst preventing blockage. Manufactured in polyvinylidene fluoride (PVDF), the Oenoflow membrane has a balanced solid-void ratio that permits operation even with high solids loading. The homogenous structure guarantees resistance to abrasion and high flow rates without compromising reliability, even with aggressive cleaning regimes. Ten years of experience in the field and absolute excellence in performance, clearly demonstrates the technical superiority of this proprietary membrane.
Benefits
On-board concentration and filtrate tanks for operation independent of winery conditions
Low capital investment per m2 of filter area
Low water and chemical consumption
Maximum respect for the organoleptic wine characteristics
Consistent filtrate quality: low turbidity (<1 NTU), reduced filterability index and low microbiological count
High yield and low waste volumes due to the patented final concentration step (Typical
loss < 0.3 %)
No additional pre-clarification or separation requirement - fewer wine movements - reduced labor costs
No filter aid requirement - reduced product handling - reduced waste disposal for landfill
Compact footprint for easy installation and flexible operation throughout the winery