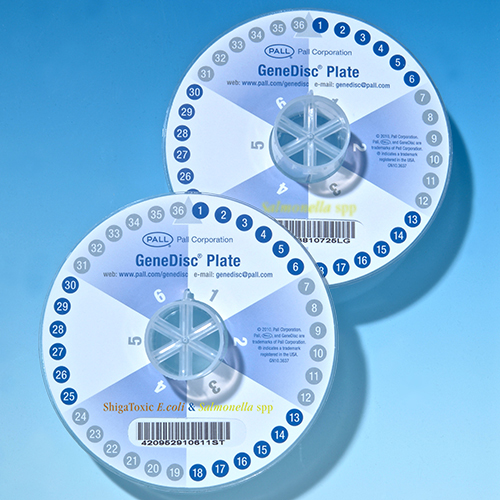 Unit of Measure
1/PAC
Min Order Qty
1
Number of Samples per GeneDisc Plate
6
Number of Samples per Kit
36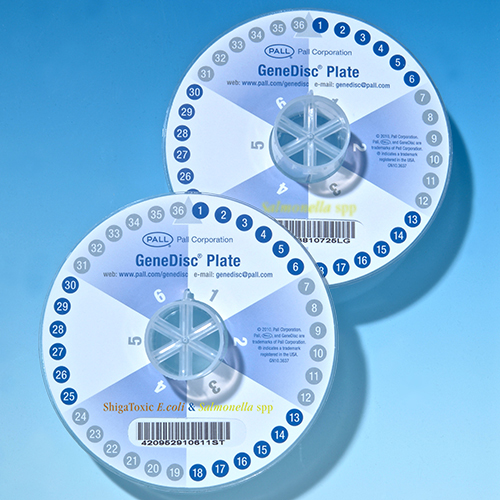 Unit of Measure
1/PAC
Min Order Qty
1
Number of Samples per GeneDisc Plate
12
Number of Samples per Kit
72
For an easy, rapid and specific detection of Salmonella spp. in food
FoodNet Annual Reports show that Salmonella spp. is the first cause for foodborne diseases and one of the major causes for FDA & FSIS recalls. Therefore, most countries have implemented strict criteria for this pathogen monitoring.
In response to industry concerns, Pall GeneDisc Technologies provides an ideal solution for food processors in need of a reliable control of Salmonella spp. risk.
GeneDisc System Benefits
Rapid — Accelerate the batch release of your short shelf life products and raw materials. While other methods such as immunoassays or culture methods require up to 3 days, the Pall GeneDisc method allows a detection of Salmonella in as fast as 10 hours.
Easy to use — GeneDisc solutions are designed for routine use. Implementing PCR (Polymerase Chain Reaction) has never been this easy.
High throughput capability — Process up to 96 samples DNA extractions simultaneously in less than one hour.
Modular — System modularity fits your throughput needs: up to 96 samples can be analyzed in a one hour PCR run.
A Solution Designed For Food Industries
In line with MLG 4 and ISO 6579 – NF VALIDATION and AOAC certified method.
Test multiple pathogens simultaneously – Analysis with pathogenic E. coli O157 or STEC is available and does not require any additional hands-on time nor enrichment.
Salmonella spp. Identification
 
Bacteria
Gram –, motile enterobacteria
Food Vehicle
Large variety of food especially dairy and egg products, poultry and beef cattle
Disease
Zoonosis (Salmonellosis)
Incidence of Cases (per 100,000 population)
15.29 (FoodNet, 2014)
Notification Rate (per 100,000 population)
23.4 (EFSA, ECDC, 2014)
Related Outbreaks
226 (strong evidence) (EFSA, ECDC, 2014)
154 (CDC, 2014)
Related Recalls
80 (FDA & FSIS, 2015)
Related Alerts / Information
516 (RASFF, 2015)
 
How the System Works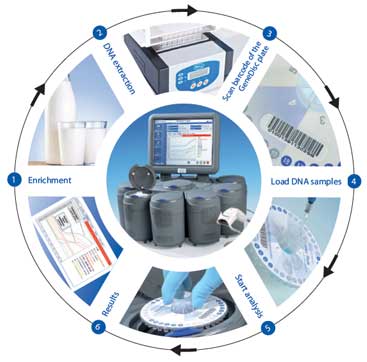 Technical Information
 
Enrichment Time
Down to 8 hours
Sample Preparation Time
< 1 hour for 48 samples
PCR Cycle Time
< 1 hour
Total Turnaround Time
Down to 10 hours
Hands On Time
About 30 minutes for 48 samples (< 40 s/sample)
Limit Of Detection
1 bacteria in 25 g of food sample
Specificity
Wide range of strains tested for inclusivity and exclusivity
Internal Positive Control Per Sample Analysis
Detects presence of inhibitors in each sample DNA extract
 
Validations
 
Validation
Matrix
Time to Result
AOAC
Raw ground beef / Raw beef trim
10 h
Variety of food (including dairy products, poultry meat, seafood, eggs, vegetables, chocolate, pet food, sprouts) and environmental samples1
20 h
NF VALIDATION
Raw beef meat
10 h
All human food and animal feed
20 h
 
1 Refer to AOAC certificate for more information
Diagnostics, Monitoring, Testing
 
Part Number
Description
Samples/pack
Equipment
EGDCV3A
GeneDisc Cycler Base Unit
-
EGDSV3A
GeneDisc Cycler Sub Unit
-
EGDUL1A230 (EU)
EGDUL1A120 (US)
GeneDisc Ultra-Lyser
-
Consumables
PFOOD1100
Extraction Pack Food 1
100
GSLMSPP206006
GSLMSPP212006
GeneDisc Salmonella spp.
36
72
GECOSLM206006
GECOSLM212006
GeneDisc Pathogenic E. coli O157
& Salmonella spp.
36
72
GSTECSL206006
GSTECSL212006
GeneDisc Shiga Toxic E. coli*
& Salmonella spp.
36
72
 
*Includes identification of pathogenic E. coli O157
We also offer a full product range for pathogen detection in food and water and for spoilage organisms in beverage.
Quantitative tests for pathogens in water (Legionella, E. coli, Enterococcus…) are also available.
For more information including part numbers please contact us.