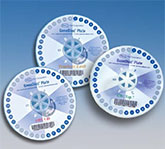 Need Help?

More Information

Description
A Flexible Approach for the Detection of Top 5 and Top 7 Shiga Toxic E. coli
Escherichia coli are common in human bacterial flora. Most of them are harmless, but some known as Shiga Toxic E. coli or STEC, can cause severe, sometimes lethal, pathologies.

Main source of infection is contaminated food making it a major concern for food processors.

Among these STEC, several serogroups are more commonly related to human diseases. In Europe, STEC Top 5 serogroups include E. coliO157, O26, O103, O111 and O145. In the USA, serogroups O45 and O121 are added to this list making the STEC Top 7.
GeneDisc System Benefits
Rapid — Accelerate the batch release of your short shelf life products and raw materials. While other methods such as immunoassays or culture methods require up to 3 days to results, the Pall GeneDisc method allows a detection of pathogenic STEC in as fast as 10 hours.

Easy to use — GeneDisc solutions are designed for routine use. Implementing PCR (Polymerase Chain Reaction) has never been this easy.

High throughput capability — Process up to 96 samples DNA extractions simultaneously in less than one hour.

Modular — System modularity fits your throughput needs: up to 96 samples can be analyzed in a one hour PCR run.