An easy, rapid, reliable method for pathogen detection
Pall's GeneDisc system has been successfully established in many of the world leading food and environmental industries. The equipment's automation allows less specialized and minimally-trained personnel to routinely perform sophisticated biological sample testing. Part of the GeneDisc system, the GeneDisc Cycler is a robust, real time PCR platform for the rapid, sensitive and specific
detection of microorganisms
, in a matter of hours. It is comprised of a base unit plus up to seven sub-units - each of the units can hold one GeneDisc plate. The plate's unique, proprietary design enables the detection of a range of microorganisms simultaneously within the same sample DNA extract.
The Cycler performs gene amplification in the plate, and each plate can be used to test either six, nine or twelve samples in parallel. When all sub-units are in use, the Cycler can analyze up to 96 samples in an hour. The unique, modular nature of the GeneDisc cycler offers the flexibility to fit your work flow requirements and to process different applications simultaneously.
Features
Easy To Use 
Flexible, modular system
Multi-target measurement
At-a-glance display of results
Seamless data transfer with capability for bi-directional LIMS connectivity
Benefits
No need for technical skills
Conduct multiple applications at once
Detect and quantify a range of important microorganisms in a single assay
Suitable for use in a cGMP environment
Minimum operator intervention and reduced risk of cross-contamination
Enables rapid decision-making
Optimize your workload
Why wait days to get results? Accelerate your testing with the GeneDisc Cycler – part of Pall's simple to use, convenient, reliable and cost-effective GeneDisc system.
Download the GeneDisc Cycler flyer here in
English
or
French
.
Video
Physical Dimensions
 
Item
Dimensions
Weight
Base Unit: 14 kg (30.8 lbs)
Sub-Unit: 2 kg (4.4 lbs)
Dimensions (Width x height x depth)
Base Unit:
321 mm x 289 mm x 346 mm
(12.6 in. x 11.4 in. x 13.6 in.)

Sub-Units:
161 mm x 242 mm x 227 mm
(6.3 in. x 9.5 in. x 8.9 in.)

Full Configuration:
643 mm x 640 mm x 573 mm
(25.3 in. x 25.2 in. x 22.5 in.)
Working Area
700 mm x 700 mm x 600 mm
(27.5 in. x 27.5 in. x 23.6 in.)
 
Electrical Data
 
Voltage
Base Unit: 110 - 230 V AC, 50-60 Hz
Sub-Units: 48 V CC
Power Consumption
4 A (nominal) for 230 V AC
10 A (nominal) for 110 V AC
 
Connections
 
6 USB Ports

Barcode Reader (supplied)
Touch Screen (supplied)
+ 4 ports for other accessories

Other User Interface Ports
1 x Ethernet Port
 
Splash Protection
Storage Conditions
 
Ambient temperatures
-20 °C to +60 °C
 
Pall offers a wide range of single and multi-target assays for food safety pathogen detection, environmental quantitative applications
and
pharma process monitoring.
For more information and a list of all product-related part numbers, accessories and technical services, contact us at
genedisc@pall.com
Diagnostics, Monitoring, Testing
How it Works
To perform a test, the GeneDisc plate is scanned using the supplied barcode reader. Test parameters are stored in firmware within the Cycler, and are automatically recognized by the Cycler once the barcode is read. This enables easy protocol set-up, protects security of key operational parameters and enables reliability of data generated.
Step 1 - scan barcode to validate GeneDisc plate and test

Next, samples of DNA and PCR reagents are added to the GeneDisc plate via the Cycler's integrated vacuum system.
Step 2 - fill plate
Finally the plate is placed in the Cycler, where it rotates on different heating plates at a fixed temperature to perform the PCR temperature cycles. One rotation equals one cycle.
Step 3 - load plate into the GeneDisc Cycler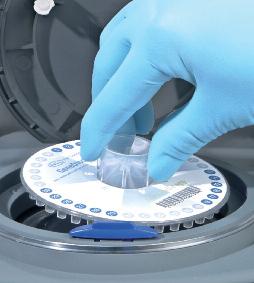 The Cycler's optical system measures any fluorescent signal generated during testing. Data is sent to an integrated computer and user-friendly software records, analyzes and reports the results. Interpretation is automated and a table indicating all results is displayed at the end of the test sequence.

Such rapid and clear results enables fast decision-making for the user, and the minimum handling of PCR components ensures accurate and highly-reproducible data, requiring no significant user skills or training.
Videos
Select the language below:
GeneDisc Cycler with components - English
GeneDisc® System: How to Run an Analysis - English
GeneDisc Cycler
 
Item
Part Number
Base Unit
EGDCV3A
Sub-Unit
EGDSV3A
 
Spares and Accessories
 
Item
Part Number
Touch Screen
SPTPADV3
Barcode Reader
SPBCREV3
USB cable for Barcode Reader
SPBRUCV3
Seals (x 2)
SPFCSLV3
Filler Cap
SPFCAPV3
Fuse (10 A slow blow, internal to the unit)
SPFUSEV3
Power cable for Base Unit
SPCUPWV3
Power cable and adaptor for Touch Screen
SPTPPWV3
Cable for connecting Touch Screen to base unit (SUB-D 15 point)
SPS15CV3
USB cable for Touch Screen
SPTPUCV3
Ethernet Cable
SPETHCV3