For an easy, rapid and specific detection of pathogenic E. coli O104:H4 in food
An outbreak of ShigaToxic Escherichia coli (STEC) reported in Germany spread across Europe and some travel associated cases were detected. Media reports indicate that this outbreak effected more than 3950 people and that 55 people died.

It was later discovered that the E. coli strain associated to this outbreak was an atypical EnteroAggregative E. coli (EAggEC), showing an unusual combination of virulence factors.

Epidemiological investigations concluded that the most likely carrier food was sprouts.

This event led European Commission to implement a regulation for the control for STEC including O104:H4 in sprouts. The reference method used for this regulation is ISO/TS 13136.
GeneDisc System Benefits
Rapid — Accelerate the batch release of your short shelf life products and raw materials. While other methods such as immunoassays or culture methods require up to 3 days to results, the Pall GeneDisc method allows a detection of pathogenic STEC in as fast as 10 hours.

Easy to use — GeneDisc solutions are designed for routine use. Implementing PCR (Polymerase Chain Reaction) has never been this easy.

High throughput capability — Process up to 96 samples DNA extractions simultaneously in less than one hour.

Modular — System modularity fits your throughput needs: up to 96 samples can be analyzed in a one hour PCR run.
How the System Works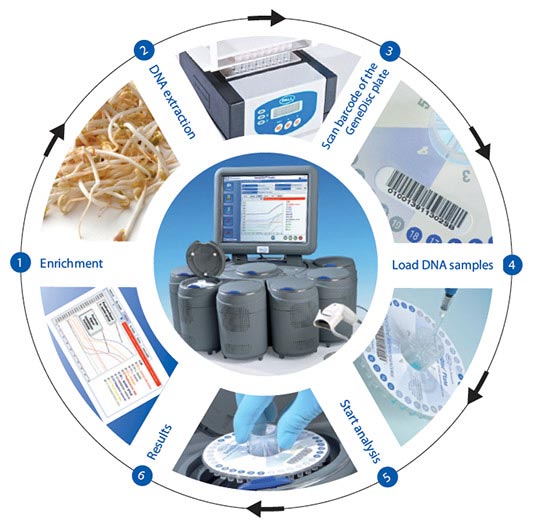 Technical Information
Enrichment Time
Down to 8 hours
Sample Preparation Time
< 1 hour for 96 samples
PCR Cycle Time
< 1 hour
Total Turnaround Time
Down to 10 hours
Hands On Time
About 30 minutes for 96 samples (<30 s/sample)
Limit Of Detection
1 bacteria in 25 g of food sample
Specificity
Wide range of strains tested for inclusivity and exclusivity
Internal Positive Control Per Sample Analysis
Detects presence of inhibitors in each sample DNA extract
Diagnostics, Monitoring, Testing
Part Number
Description
Samples/pack
Equipment
EGDCV3A
GeneDisc Cycler Base Unit
-
EGDSV3A
GeneDisc Cycler Sub Unit
-
EGDUL1A230 (EU)
EGDUL1A120 (US)
GeneDisc Ultra-Lyser
-
or
EGDBH96230 (EU)
EGDBH96120 (US)
GeneDisc DryBlock Heater 96
-
SPSKIT96
Extraction Pack Food 2 Starter Kit
-
Consumables
PFOOD1100
Extraction Pack Food 1
100
PFOOD2096
Extraction Pack Food 2 (High throughput)
96
GSTEHEC106006
GSTEHEC112006
GeneDisc ShigaToxic E. coli*
36
72
GSTECSL206006
GSTECSL212006
GeneDisc ShigaToxic E. coli* & Salmonella spp.
36
72
GEHECID106006
GeneDisc EHEC 5 ID (H7, O26, O103, O111, O145)
36
GECO104106006
GeneDisc E. coli O104
18
*Includes identification of pathogenic E. coli O157
We also offer a full product range for pathogen detection in food and water and for spoilage organisms in beverage.
Quantitative tests for pathogens in water (
Legionella, E. coli, Enterococcus...
) are also available.
For more information including part numbers please contact us.
Further Readings
Poster: Fach, P. et al. E.coli O104:H4 Virulence Factors and Detection methods. IAFP, Milwaukee, 2011.
Bugarel M. et al. Micro-array for the identification of Shiga toxin-producing Escherichia coli (STEC) seropathotypes associated with Hemorrhagic Colitis and Hemolytic Uremic Syndrome in humans, International Journal of Food Microbiology, Volume 142, Issue 3, 1 September 2010, Pages 318-329, ISSN 0168-1605, 10.1016/j.ijfoodmicro.2010.07.010.