Need Help?

More Information

Description
Easy, Rapid, Highly-Efficient Sample Preparation Instrument for DNA Analysis
The GeneDisc System is a complete, rapid, reliable and easy-to-use solution for rapid microbial testing in three simple steps from sample to result. The GeneDisc Ultra-Lyser is a combination of ultrasonic bath and dry block heater to address the sample preparation step for efficient, rapid and easy DNA extraction. Extracted DNA is then loaded into a GeneDisc plate designed for specific detection or quantification of microorganisms of interest. The GeneDisc plate is then placed into the GeneDisc Cycler for analysis. The analysis step runs for as little as an hour and the final results are displayed with no further operator intervention.
Features
Combined ultrasound and heating technology
High-powered ultrasonic bath
Easy to handle and use
Process 48 samples simultaneously
Benefits
Dramatically increases lysis efficiency
Minimizes time to result
Reduces hands-on time
Perfect for high throughput analysis
Part of a complete "sample to result" analytical tool
Sample Preparation and Cell Lysis
Sample preparation is a key part of rapid microbial testing by real-time PCR analysis. Efficient cell lysis enables higher sensitivity and better accuracy during quantitative analysis. The GeneDisc Ultra-Lyser's high-powered sonication bath and efficient dry block heater combine to improve sample preparation efficacy in food, environmental or pharmaceutical applications.
In many sample matrices, heating alone is not very effective in killing microorganisms. However, the use of sonication coupled with heating (thermosonication) is proven to be a more energy-efficient and effective method to accelerate the disruption of microbial cells1, 2. Sonication or ultrasound processing is the phenomenon in which ultrasound waves liberate energy to agitate particles in a sample. This is also referred to as "cavitation". Moreover, in many biological applications, probes delivering higher energy ultrasonic irradiations are used to disrupt the microbial cell wall. However, this very efficient lysis method also damages DNA strands.
The GeneDisc Ultra-Lyser multiplies the strength of high energy ultrasound technology by combining it with a high temperature heating process (100° C) to maximize microbial destruction while preserving DNA strand integrity. This results in higher test sensitivity and improved accuracy.
Operation Sequence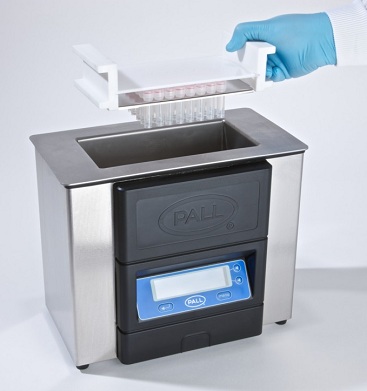 Step 1: Add lysis tube to the rack and place it on the ultrasonic bath, then run the sonication.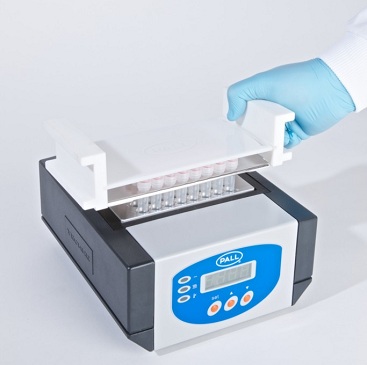 Step 2: Transfer the rack to the dry block heater at 100°C.
Cells have been lyzed, the DNA is released and ready to be processed. Transfer to the GeneDisc plate and analyze using the GeneDisc Cycler.
References:
1 P. Piyasena, E. Mohareb, R.C. McKellar, 2003. Inactivation Of Microbes Using Ultrasound: A Review. International Journal of Food Microbiology, 207-216
2 McClements, D.J., 1995. Advances In The Application Of Ultrasound In Food Analysis And Processing. Trends in Food Science and Technology 6 (9), 293-299