Description
For the rapid quantification, detectionand identification of Legionella spp., L. pneumophila and L. pneumophila serogroup 1
Legionellosis are infections caused by bacteria of the genus Legionella, generally by aerosol inhalation. With over 95,000 human cases reported per year, it is one of the most frequent causes of waterborne disease.
Legionella species are capable of colonizing artificial water systems and equipment containing water, making this pathogen a major issue for:
Industries where cooling towers can generate a wide dispersion of bacteria;
Hospitals and care facilities where contaminated hot tap or shower waters are potential sources of Legionella outbreak and can effect weakened patients;
Public-access buildings, such as spas and swimming pools, where aerosol dispersion is common;
Fountains in public space.
Pall GeneDisc Technologies provides complete solutions to water system network managers for real time Legionella risk management.
GeneDisc System Benefits
Rapid —While culture methods require up to 12 days to obtain results, Pall's GeneDisc method allows a quantification of Legionella in as fast as 2 hours.
Unambiguous —The PCR specificity allows a direct and accurate identification of Legionella sp.
Easy to use —Matrix specific protocols are designed for routine use and validated from sample to result.
Modular —System modularity fits your throughput needs: up to 88 samples for quantification and 96 samples for detection and identification can be simultaneously analyzed.
A Solution Designed for Water Network Management
Reduce down-time —Shorter time to results enables reactive surveillance preventing delayed intervention on water networks and system closures.
Implement appropriate and effective disinfection measures —Mapping water system networks with the GeneDisc system identifies and targets contaminated pipework and water points.
In line with NF T 90-471 and ISO/TS 12869 —NF VALIDATION certified method against both standards.
Quantify Legionella spp. and Legionella pneumophila simultaneously —GeneDisc Plate Legionella DUO enables combined detection and quantification of both Legionella spp. and Legionella pneumophila using the same sample preparation and without any additional hands-on time.
Direct detection and identify the Legionella —GeneDisc Plate Legionella ID enables rapid source screening and the identification of Legionella spp., L. pneumo and L. pneumophila Serogroup 1.
Legionella Identity Card
Bacteria
Gram – flagellated bacteria
Location
Ubiquitous aquatic organism (from drinking water to cooling tower aerosols)
Disease
Legionellosis (Pontiac fever, Legionnaires' disease)
Prevalence
L. pneumophila is responsible for 90% of legionellosis infections with 84% associated to the Serogroup 1
Outbreaks
450 % increase over the past 15 years (CDC report, 2017)
2016 Incidence rate: 19 cases / 1 million
Specifications
How the System Works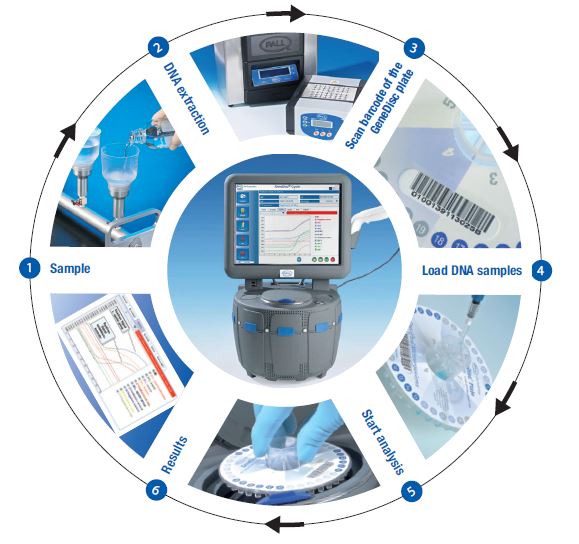 Technical Information
Total Turnaround Time
2 hours for clear water samples
3 hours for complex water samples
PCR Cycle Time
1 hour
Limit of Detection
5 GU/PCR well
Limit of Quantification
25 GU/PCR well
Quantification Range
25 – 250,000 GU/PCR well
PCR Efficiency (e)
75 %<e<125 td="">
Optimal Recovery
> 50 %
Specificity
Wide range of strains tested for inclusivity and exclusivity
Legionella pneumophila
Calibrator (external quantitative control)
Included in each GeneDisc Plate to validate accuracy of quantification
Internal Positive Control Per Sample Analysis
Detects presence of inhibitors in DNA extract sample
Ordering Information
 
Part Number
Description
Samples/pack
Equipment
EGDCV3A
GeneDisc Cycler Base Unit
EGDSV3A
GeneDisc Cycler Sub Unit
-
EGDUL1A230 (EU)
EGDUL1A120 (US)
GeneDisc Ultra-Lyser
(for clear and complex water samples)
-
EGDUP1A
GeneDisc Ultra-Purifier
(for complex water samples)
-
 
Consumables
ALEGPNE205
Legionella pneumophila Standard DNA
(5 tubes)
-
PENVI1096
Extraction Pack Environment 01
(for clear or complex water samples)
96
PENVI3100


Extraction Pack Environment 03
(for clear water samples)
100
GLEGPNE206006
GLEGPNE212006
GeneDisc Plate Legionella pneumophila
30
66
GLEGSPP206006
GeneDisc Plate Legionella spp.
30
GLEGDUO206006
GeneDisc Plate Legionella DUO
30
GLEGOID206006
GLEGOID212006
GeneDisc Plate Legionella ID
36
72
 
We also offer a full product range for pathogen detection in food and for spoilage organisms in beverages.
Quantitative tests for pathogens in water (E. coli, Enterococcus…) are also available.
For more information including part numbers please contact us.