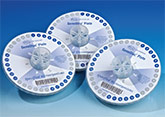 Need Help?

More Information

Description
Rapid testing of pharmaceuticals and personal care products, for key compendial indicator organisms
Many of the key microbiological tests routinely used for nonsterile product testing can take days to produce data. Delayed availability of microbiological data presents a significant, avoidable risk to processes and products. The GeneDisc Rapid Microbiology System is designed to accelerate routine microbiological testing, offering an easy-to-use product that requires minimal training to adopt and place into routine use.
The GeneDisc Plate for Specified Microorganisms enables rapid and simple assays for the key indicator microorganisms used in a compendial test, such as the new harmonized Microbial Limits Test. Each plate contains six sectors, with six wells per sector. Each of the six wells contains reagents to detect one or more microbial targets simultaneously. An entire sector of six wells provides data for six different microorganisms (see below) plus an internal positive control. This novel assay design maximizes data for a single sample. Six samples can be tested per plate.
Indicator organisms are:
Escherichia coli
Salmonella spp.
Pseudomonas aeruginosa
Staphylococcus aureus
Candida albicans
Burkholderia cepacia complex
Each sector also includes an internal positive control. The positive control runs within predetermined parameters, to confirm critical aspects of sample purity and system set-up. If not, the assay is automatically invalidated. Each plate is barcoded for traceability – the barcode also automatically selects the appropriate assay parameters stored within the GeneDisc Cycler.
Features and Benefits:
Simultaneous detection of six indicator organisms: no need for time-consuming media preparation, maintenance and transfers to test non-sterile samples
From multiple samples to test results in 24 hours: rapid, reliable results for timely corrective actions and streamlined microbiology testing
Easy-to-use system, only minimal operator intervention required: saves operator hands-on time, new operators can be quickly trained
Barcode control of consumables and assay parameters: ensures simple, secure, operator-independent control of records and test parameters
Key reagents pre-loaded in a unique, sealed plate: minimizes risk of operator errors during reagent addition, and of false-positive results from cross-contamination
Type
Testing and Monitoring Equipment
Use
Diagnostics, Monitoring, Testing
Additional Information
 

GeneDisc Ultra-Lyser

High throughput enables simultaneous DNA extraction for up to 48 samples

 

GeneDisc Plate

Pre-loaded for ease of use and reliable analysis

 

GeneDisc Cycler

Performs real-time PCR in one hour and provides direct display of results
Application
QC Microbial Detection - Pathogens, Food Safety, Environmental Monitoring