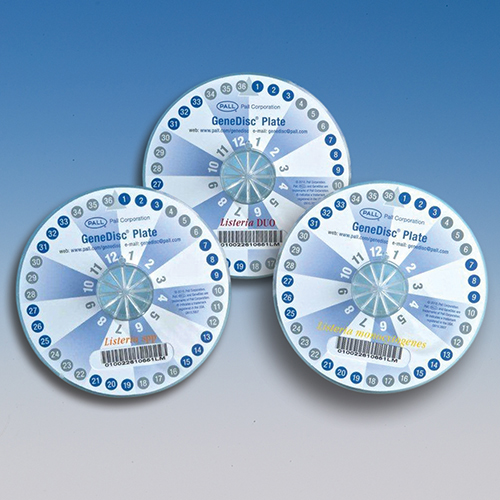 Need Help?

More Information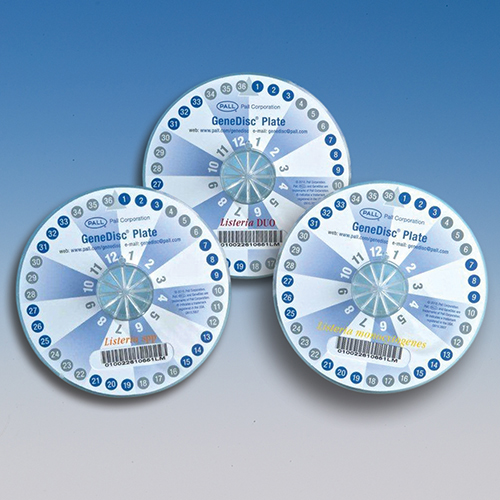 Unit of Measure
1/EA
Min Order Qty
1
Number of Samples per GeneDisc Plate
6
Number of Samples per Kit
18
Description
Listeria monocytogenes is an opportunistic foodborne pathogen that can affect a wide range of food products and can cause severe infections with high mortality rate to the elderly, immunodepressed persons and pregnant women. Since L. monocytogenes has the ability to grow slowly at refrigerated temperatures, it is a major concern for food companies. Some rare cases of listeriosis related to other Listeria spp. have also been reported.
According to MLG 8 and ISO 11290, detection of Listeria is based on a two steps procedure consisting of detection/ isolation followed by confirmation.
Conventional confirmation methods used for Listeria spp. identification are based on biochemical tests performed from isolated colonies. These methods results are typically obtained within 24 hours and might be ambiguous.
GeneDisc System Benefits
Rapid — Accelerate your control workflow. Result for colony confirmation is obtained in less than 1 hour.
Easy to use — GeneDisc solutions are designed for routine use. Implementing PCR (Polymerase Chain Reaction) has never been this easy.
A Solution Designed For Food Industries
Easy to read – The GeneDisc Listeria ID method allows a clear discrimination amongst the 6 Listeria spp. from isolated colonies on agar plates.
Flexible – Designed for use with the main Listeria specific agars and chromogenic media.
Reliable – AOAC certified method
Listeria spp. Identification
 
Bacteria
Gram + bacilli
Species List
L. monocytogenes L. grayi
L. seeligeri
L. innocua
L. ivanovii
L. welshimeri
Major Human Pathogen
L. monocytogenes
 
From Colony To Result In As Fast As One Hour