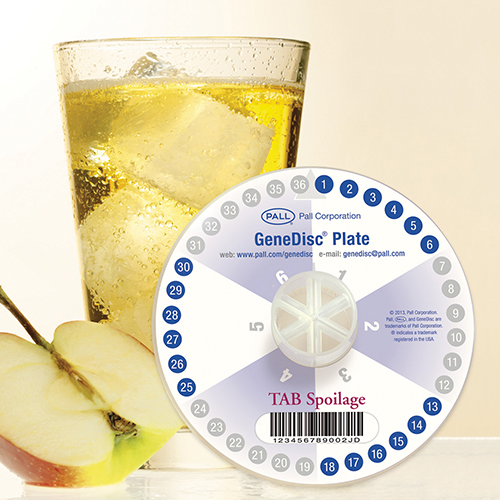 Need Help?

More Information

NA, products are NOT sub-grouped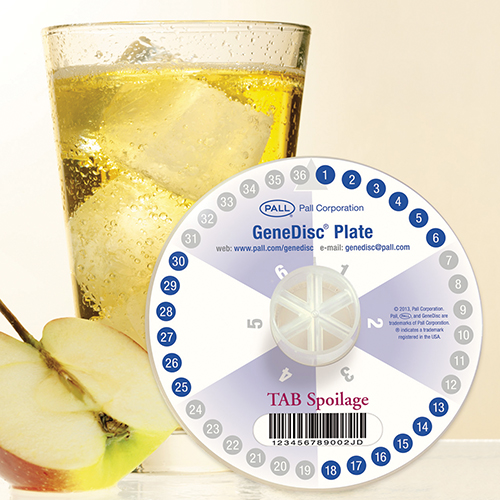 Unit of Measure
1/EA
Min Order Qty
1
Number of Samples per GeneDisc Plate
6
Number of Samples per Kit
36
Description
Alicyclobacillus spp., also known as Thermophilic Acidophilic Bacteria (TAB), are spoilage organisms in the fruit juice industry. They can generate strong off flavors and off odors due to guaiacol or bromophenols production.
Their ability to grow at acidic pH and their resistance to normal thermal processing such as common pasteurization have made these bacteria a major quality issue for processors of juices and concentrates.
Contamination with these non-pathogenic bacteria can occur at various stages of the process. Rapid detection and identification of TAB spoilage is an informative solution to increase quality monitoring at identified critical points of the process to facilitate release of high quality products.
GeneDisc System Benefits
Rapid — While culture methods require up to 10 days to results, Pall's GeneDisc method allows a simultaneous detection and identification of Alicyclobacillus spp. in as fast as 2-3 hours.
Easy to use — GeneDisc method is designed for routine use and validated from sample to result. Implementing PCR (Polymerase Chain Reaction) has never been this easy.
Modular — System modularity fits your throughput needs: up to 48 samples can be analyzed in a one hour PCR run.
A Solution Designed for Beverage Industries
Save money – Shorter time to results reduces your storage cost by accelerating the release of your raw materials and /or final products. GeneDisc ease of use will also reduce your overall testing cost.
Get informative results – GeneDisc method allows the simultaneous detection of Alicyclobacillus spp. and identification of the 4 strains known to be main potential spoilers (A. acidoterrestris, A. acidophilus, A. cycloheptanicus, A. herbarius).
Avoid false results – Unique highly specific and sensitive tests enable a wide coverage of Alicyclobacillus species.
Alicyclobacillus spp. Identification
 
Bacteria
Gram +, rod shapped, sporeforming bacillus
Distinctive features
Thermophilic (20 – 70 °C)
Acidophilic (pH 2.0 – 6.0)
Identified in
Fruit juices and concentrates, ingredients such as sugar syrups and sugar powders, condensate water
Main spoilage associated strains
A. acidoterrestris
A. acidophilus
A. cycloheptanicus
A. herbarius
 
How the System Works