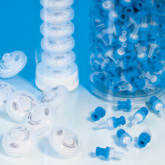 Need Help?

More Information

Acrodisc 13mm Nonsterile
Acrodisc PSF
Acrodisc PSF
Acrodisc® Syringe Filters with Versapor® Membrane, Non-sterile
Description
Meets All Prefiltration and
Clarification Requirements
Acrodisc PSF syringe filters are Zymark* and SOTAX* Automation Certified to assure smooth operation and worry-free performance 24 hours a day in automated workstations.
Meets aqueous sample filtration needs.
"Pall Laboratory products are designed for laboratory applications only. This product is not approved for use in medical, clinical, surgical or other patient applications. If you require further assistance in product selection for your chosen application, please contact Labcustomersupport@pall.com or call 1-800-521-1520."