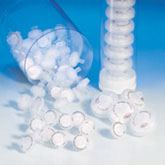 Need Help?

More Information

Acrodisc 13mm Nonsterile
Acrodisc 25mm Nonsterile
Acrodisc PSF
Description
Optimized to Provide the Most Consistent Results when Analyzing Ionic Species
Acrodisc PSF syringe filters are Zymark* and SOTAX* Automation Certified to assure smooth operation and worry-free performance 24 hours a day in automated workstations.
Accurate results for the most sensitive analysis of ionic species. Certified for low levels of extractables detected by conductivity.
High flow rates with optimized Supor® polyethersulfone membrane.
Conforms to quality release criteria for ion chromatography (IC) extractables.
Convenient sizes for small sample volumes. 
Segment
Analytical QC
Shop Laboratory Products