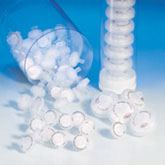 Need Help?

More Information

Acrodisc 13mm Nonsterile
Acrodisc 25mm Nonsterile
Acrodisc PSF
Description
Optimized to Provide the Most Consistent Results when Analyzing Ionic Species
Acrodisc PSF syringe filters are Zymark* and SOTAX* Automation Certified to assure smooth operation and worry-free performance 24 hours a day in automated workstations.
Accurate results for the most sensitive analysis of ionic species. Certified for low levels of extractables detected by conductivity.
High flow rates with optimized Supor® polyethersulfone membrane.
Conforms to quality release criteria for ion chromatography (IC) extractables.
Convenient sizes for small sample volumes. 
"Pall Laboratory products are designed for laboratory applications only. This product is not approved for use in medical, clinical, surgical or other patient applications. If you require further assistance in product selection for your chosen application, please contact Labcustomersupport@pall.com or call 1-800-521-1520."