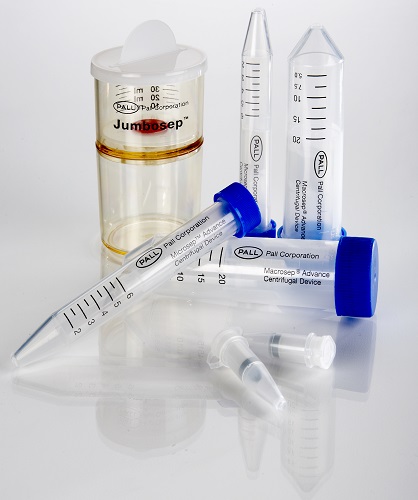 Need Help?

More Information

Description
Pall centrifugal devices simplify many common nucleic acid & protein sample preparation procedures. They provide rapid & efficient concentration and salt removal of samples from 50 µL to 60 mL.
For nucleic acid binding product application notes, protocols and to request a sample Click here
"Pall Laboratory products are designed for laboratory applications only. This product is not approved for use in medical, clinical, surgical or other patient applications. If you require further assistance in product selection for your chosen application, please email us a question or call 1-800-521-1520."
Specifications
Membrane Selection
Protein Applications
MWCO
Biomolecule Molecular Weight
1K, yellow
3K-10K
3K, gray
10K-20K
10K, blue
30K-90K
30K, red
90K-180K
100K, clear
300K-900K
Nucleic Acid Applications
MWCO
Base Pairs (DS)
Bases (SS)
1K, yellow
5-16 Bp
9-32 Bs
3K, gray
16-32 Bp
32-65 Bs
10K, blue
50-145 Bp
95-285 Bs
30K, red
145-285 Bp
285-570 Bs
100K, clear
475-1,450 Bp
950-2,900 Bs