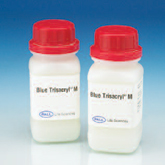 Need Help?

More Information

Description
For the Purification of a Wide
Variety of Enzymes and Proteins
Strong bond of dye-to-sorbent prevents leakage of the dye in normal working conditions
Excellent chemical stability is attributed to the synthetic nature of Trisacryl sorbent and the enhanced stability of the ligand coupling mechanism
Excellent mechanical stability allows high flow rates with working pressures up to 3 bar (300 kPa, 45 psi)
Basic matrix is Trisacryl GF2000, a macroporous non-ionic sorbent. Cibacron♦ Blue F3GA dye is strongly bound to the matrix through a six-carbon spacer arm

"Pall Laboratory products are designed for laboratory applications only. This product is not approved for use in medical, clinical, surgical or other patient applications. If you require further assistance in product selection for your chosen application, please email us a question or call 1-800-521-1520."