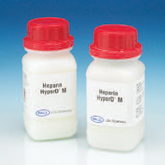 Need Help?

More Information

Description
For the Purification of Biological
Molecules that Bind to Heparin
Design combines the desirable characteristics of a soft, high speed, high capacity hydrogel with the high dimensional stability of a rigid bead
Leakage is minimized due to the stable chemical link of the heparin molecule to the sorbent
Rapid packing due to the high density of the bead
Can be packed in a variety of column sizes

"Pall Laboratory products are designed for laboratory applications only. This product is not approved for use in medical, clinical, surgical or other patient applications. If you require further assistance in product selection for your chosen application, please email us a question or call 1-800-521-1520."