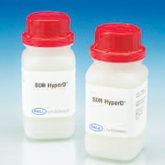 Need Help?

More Information

Description
Unique Sorbent Designed to Eliminate Detergent from Biological Fluids
High dynamic binding capacity for many different detergents.
High recovery for proteins.
High adsorption capacity for small, hydrophobic molecules.
Stable in acid, polar organic, and oxidizing solutions.
Composed of silica beads in which the pore volume is filled with a three-dimensional crosslinked hydrophobic polymer. The small pore size, particle size distribution (40 to 100 μm), and hydrophobic nature of the chemical groups make SDR HyperD sorbent ideal for detergent removal.

"Pall Laboratory products are designed for laboratory applications only. This product is not approved for use in medical, clinical, surgical or other patient applications. If you require further assistance in product selection for your chosen application, please contact Labcustomersupport@pall.com or call 1-800-521-1520."