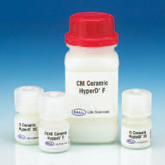 Need Help?

More Information

Description
Preparative Sorbents for the Purification
of Biomolecules by Charge
High binding capacity. "Gel-in-a-shell" design delivers outstanding dynamic capacity and exceptional dimensional stability for unsurpassed productivity.
High flow rates. Proteins diffuse rapidly within the hydrogel, facilitating rapid uptake of product. This mechanism of mass transfer (known as "enhanced diffusion") allows the sorbents to operate free of constraints.
Abundant ion exchange sites in the hydrogel are highly accessible to protein molecules.
Does not shrink or swell in response to changes in pH, ionic strength, or flow rate.
Rigid, non-compressible sorbents are easy to pack.
Easy cleaning with sodium hydroxide.
Scalable from research and development to manufacturing.

"Pall Laboratory products are designed for laboratory applications only. This product is not approved for use in medical, clinical, surgical or other patient applications. If you require further assistance in product selection for your chosen application, please email us a question or call 1-800-521-1520."