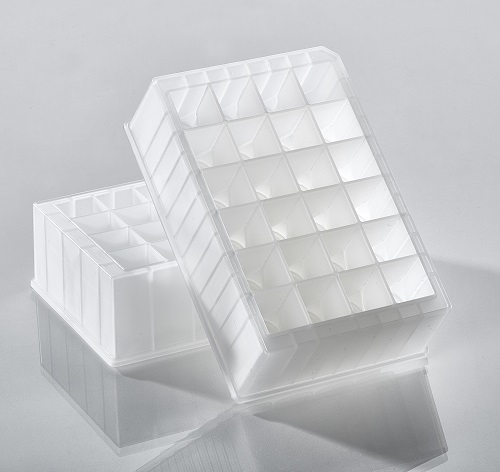 Product image is a representative example for illustration purposes. Actual product may vary.
AcroPrep 24-Well Filter Plates 10 K Omega Filter Plate 2pk
Product ID: 97054 Need this product with different specifications
EFA (Effective Filtration Area)
1.62 cm²
Filter Media
Omega (modified polyethersulfone) membrane
Height (Metric cm)
3.9 cm
Length (Metric cm)
12.8 cm
MWCO Molecular weight cut-off
10 K
Plate Housing Material
polypropylene
Recommended Centrifugal Force
1500 g
Recommended Operating Vacuum
15 in Hg
---
AcroPrep 24-Well Filter Plates with 10K Omega membrane are optimized for ultrafiltration applications, offering the rapid and efficient separation of biomolecules.

Ultrafiltration is a membrane separation technique used to separate extremely small particles and dissolved molecules in fluids. The primary basis for separation is molecular size, although other factors such as molecular shape and charge can also play a role. Molecules larger than the membrane pores will be retained at the surface of the membrane and concentrated during the ultrafiltration process. Ultrafiltration can be used in a variety of applications including size exclusion, PCR clean-up, nucleic acid purification and protein separation.

The Pall Omega membrane is a polyethersulfone membrane specifically modified to minimize protein and nucleic acid binding. The low binding nature of the membrane offers numerous benefits, including high recoveries of low concentrations of biomolecules and less surface fouling, which can cause retention performance to decay. The Omega ultrafiltration membrane is available in Pall's range of centrifugal devices as well as AcroPrep 24, 96 and 384-well filter plates.

AcropPrep 24-well filter plates allow up to 7 mL of sample to be filtered in each well, eliminating the need to process samples with other labor intense methods and resulting in time savings. Researchers can confidently incorporate Pall 24-well filter plates into their workflow without costly and time-consuming membrane evaluations.

AcroPrep filter plates are constructed from chemically resistant and biologically inert polypropylene which means that the plates themselves are low in binding to nucleic acids and proteins. A patented design and unique sealing mechanism is used to individually seal filter media into each well of the plate, preventing crosstalk and the possibility of cross contamination from one well to another. The filter plates feature a smooth well design that provides consistency in filtration times, as well as efficient sample. All plates come with a receiver plate and a lid.

Pall AcroPrep filter plates are designed to meet the stringent requirements for high throughput applications and are manufactured in accordance with SBS guidelines, allowing plates to be run in manual, semi-automated, and automated processes. A rigid single piece construction prevents plates from flexing or jamming in robotic systems, whilst barcode labeling allows for easy sample tracking and identification.