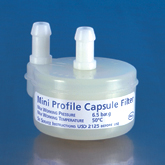 Need Help?

More Information

Description
Scaleable Depth Capsules for
Prefiltration and Clarification
High capacity depth medium is absolute particle rated for reliability.
Filter materials offer broad chemical compatibility.
Optimized for viscous fluids.
Mini Profile II filters have a thick depth structure, providing high capacity for larger solids and gels as well as for fine particles.
Profile Star filters feature high area star-shaped pleated construction. The patented design combines the advantages of thick depth filters with those of traditional high area pleated filters.

"Pall Laboratory products are designed for laboratory applications only. This product is not approved for use in medical, clinical, surgical or other patient applications. If you require further assistance in product selection for your chosen application, please email us a question or call 1-800-521-1520."