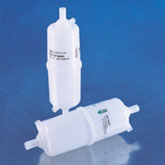 Need Help?

More Information

Description
All-Polypropylene-Graded Density
Prefilters Extend Final Filter Life
All-polypropylene components provide superior chemical compatibility and low levels of extractables
Melt-blown media and thermally bonded construction protect purity and integrity of filtered solutions
High dirt-holding capacity improves throughput and extends the life of your final filters, especially when working with viscous solutions
Listed as acceptable for food contact according to the Code of Federal Regulations, Title 21
Provides excellent flow rates
"Pall Laboratory products are designed for laboratory applications only. This product is not approved for use in medical, clinical, surgical or other patient applications. If you require further assistance in product selection for your chosen application, please email us a question or call 1-800-521-1520."