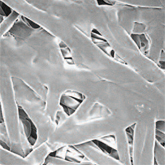 Need Help?

More Information

Description
Virtually Inert to Chemical
and Biological Agents
Outstanding wet strength
High chemical resistance
Provides a channeling effect for liquid, increasing overall filter flow rate when used in series with submicron membrane filters
Ensures stability when filtering concentrated acids, alkalis, or oxidizers
"Pall Laboratory products are designed for laboratory applications only. This product is not approved for use in medical, clinical, surgical or other patient applications. If you require further assistance in product selection for your chosen application, please email us a question or call 1-800-521-1520."