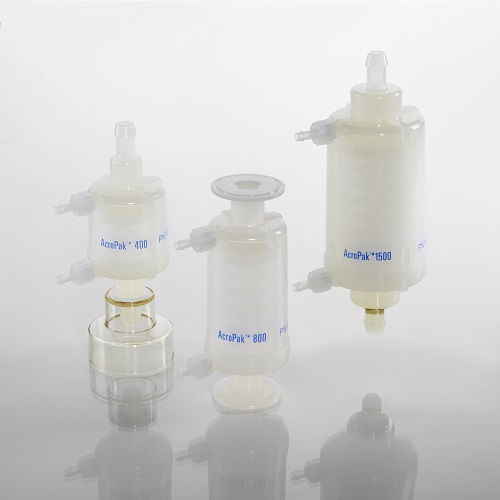 Need Help?

More Information

AcroPak 1500 Capsules With Supor EKV Membrane
AcroPak 400 Capsules With Supor EKV Membrane
AcroPak 800 Capsules With Supor EKV Membrane
Description
For Cost-Effective Filtration of Buffers, Tissue Culture Media, and Other Biological Solutions
Newer technology recommended for simplified scale-up
Disposable design reduces labor costs associated with assembling, cleaning, and testing stainless steel filter holders
Encapsulated format for ease of use
Extended life with built-in MachV asymmetric prefilter layer for maximum flow and throughput performance
Low adsorption and high chemical compatibility with hydrophilic polyethersulfone membrane for high compatibility over the entire pH range and low protein binding
Gamma-irradiated, non-pyrogenic, and non-cytotoxic
Inherently hydrophilic for reliable integrity testing 
"Pall Laboratory products are designed for laboratory applications only. This product is not approved for use in medical, clinical, surgical or other patient applications. If you require further assistance in product selection for your chosen application, please contact Labcustomersupport@pall.com or call 1-800-521-1520."


Video: Using an AcroPak Filter With a Peristaltic Pump