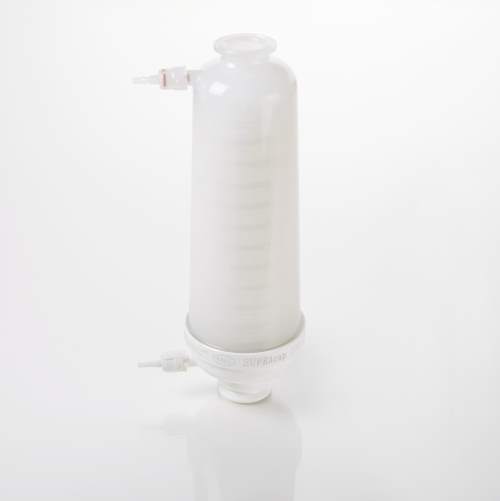 Need Help?

More Information

A) 5 Inch Capsules
B) 10 Inch Capsules
C) 10 Inch Supracap 100 Capsules
Description
Scalable Capsule with Seitz® High
Performance Depth Filter Media
Flexible choices in filter media for prefiltration and removal of coarse particulate.
Low hold-up volume allows for increased product recovery and requires low post-use rinse volumes.
For filtration of 3 to 100 L.
Mechanically robust design provides unobstructed process flows, consistent and scalable filtration results, and high filter media integrity.
Completely disposable technology eliminates the need for cleaning and cleaning validation.
Encapsulated design reduces operator exposure to potential biohazards.
Tested and certified. Manufactured under a Quality Management System certified to ISO 9000 and ISO 9001, and an Environmental Management System certified to ISO 14001.
Offers flexibility and assurance of application success from development to production scale. Scalable to Pall's entire line of traditional SUPRAdisc™ modules, as well as Stax™ capsules.

"Pall Laboratory products are designed for laboratory applications only. This product is not approved for use in medical, clinical, surgical or other patient applications. If you require further assistance in product selection for your chosen application, please email us a question or call 1-800-521-1520."