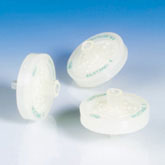 Need Help?

More Information

Complementary Products
0.2 μm, 25 mm, sterile (10/pkg (blister packs))
Mustang E Membrane in Acrodisc Capsules
Kit includes: (4) Acrodisc unit with Mustang Q membrane (non-sterile); (4) Acrodisc unit with Mustang S membrane (non-sterile): (2) Acrodisc unit with Mustang E membrane (sterile) (10/pkg)
Description
Remove Endotoxin from Water, Buffer, Neutral Sugars, and Certain Biological Solutions
Ideal for evaluation and proof of concept
High flow rates of 1 to 4 mL/min or 10 to 35 membrane volume (MV)/minute
Disposable 25 mm units are designed for laboratory single use only
Dynamic binding capacity for endotoxin removal
"Pall Laboratory products are designed for laboratory applications only. This product is not approved for use in medical, clinical, surgical or other patient applications. If you require further assistance in product selection for your chosen application, please email us a question or call 1-800-521-1520."