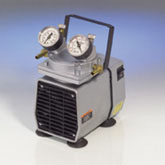 Need Help?

More Information

Spare Parts and Accessories
Cover gasket, filter/muffler element (2), filter element, valve screw (2), valve limiter, leaf valve (2), valve retainer, and instructions (1/pkg)
Description
Cost-Effective, Reliable Pumps Now Smaller and Lighter Weight
Reduces the risk of sample contamination. An air seal between the pump and cylinder provides oil- and dust-free vacuum/pressure delivery.
Compact design saves laboratory space.
Features a diaphragm for cleaner, quieter operation.
"Pall Laboratory products are designed for laboratory applications only. This product is not approved for use in medical, clinical, surgical or other patient applications. If you require further assistance in product selection for your chosen application, please contact Labcustomersupport@pall.com or call 1-800-521-1520."