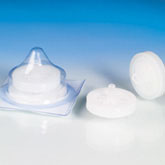 Need Help?

More Information

DMSO-Safe Acrodisc Syringe Filter
Description
Compatible with DMSO
Polypropylene housing and nylon membrane are compatible with solutions containing DMSO
Excellent chemical compatibility with esters, bases and alcohols
"Pall Laboratory products are designed for laboratory applications only. This product is not approved for use in medical, clinical, surgical or other patient applications. If you require further assistance in product selection for your chosen application, please contact Labcustomersupport@pall.com or call 1-800-521-1520."